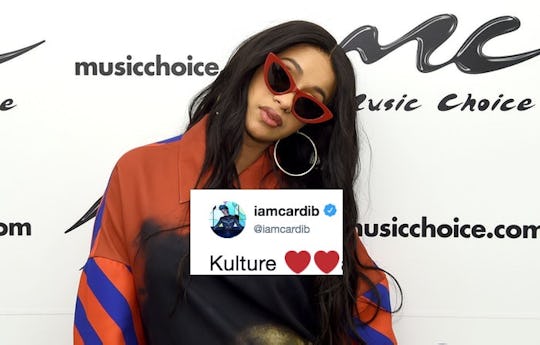 Jamie McCarthy/Getty Images Entertainment/Getty Images
Cardi B Couldn't Have Had A Better Explanation For Her Daughter's Name
Cardi B gave birth to her first child on Tuesday and obviously everyone was dying for details. Perhaps about the little girl's name especially, since the singer had been so evasive about the possibilities. Then there's the fact that the "Bodak Yellow" singer is not exactly a traditionalist who likes to follow the rules (which is why we all love her, obviously) that had fans desperate to know what she chose. Expectations were high... and I doubt people were disappointed by the unusual name. Well, after letting the internet squabble for a day, Cardi B explained why she named her daughter Kulture with her husband Offset. And the explanation was epic Cardi B.
The baby's full name is Kulture Kiari Cephus, and believe it or not, she's actually named after her dad. Migos rapper Offset's real name is Kiari Kendrell Cephus, which means little Kulture's middle and last names are the same as her father, according to Billboard. But what about the first name? Where did she get Kulture, you ask? Well, Cardi B took time away from her new little baby to answer that question on Twitter, and if you're surprised by the answer then I guess you don't know her at all.
That's right, folks. Cardi B explained her daughter's name by saying "Kulture," adding, "anything else woulda been basic Okrrrrr."
If you find that explanation isn't quite enough, she also took to Instagram to share a gorgeous nude photo of herself lounging in the middle of a bunch of flowers with the caption:
Kulture :')...no better feeling ❤️🌸
The baby's name wasn't exactly a spontaneous decision either; it's not like Cardi B and Offset looked at their daughter and thought, "She looks like a Kulture to me," apparently. The "Who Wants The Smoke" singer spoke to Ellen DeGeneres on The Ellen Show back in April to talk about her pregnancy cravings ("anything lemon-ish"), her desire for a Lamborghini truck because it's "baby proof," and her baby's name. Which she admitted she didn't exactly pick:
My dude named the baby. I really like the name. I'm gonna let him say the name, because he named the baby. It's like almost tricky, but when it comes out, it's like "Ah!"
DeGeneres offered Cardi B $20,000 to name the baby Ellen, but clearly the singer didn't take the bait.
The name Kulture should have possibly been considered by fans who were guessing the baby's name; after all, Offset's band Migos has put out two albums recently, Culture and Culture II. He is obviously a fan of culture, but probably a bigger fan of Kulture.
How do fans feel about the name? As usual there's a huge divide, but some fans couldn't help notice that Kulture Kiari Cephus sounds an awful lot like a spell from Harry Potter.
I'm not sure what fans were expecting from Cardi B. She was never going to be the kind of person who just grabbed herself a baby book and picked out a name (writes a woman whose name is Jennifer, so clearly I'm not judging). And Kulture sounds awfully sweet, in my opinion.
As for Cardi B and Offset, who secretly got married last September, in case you hadn't heard, according to CNN, I doubt they're overly worried about people's opinions at this point. They're probably busy getting to know their little girl and trying to figure out sleep schedules and feedings and such.
Because here's the true thing about having a baby; they don't care if their name is causing a stir or their parents are famous or what have you. So Cardi B better get ready to figure out how to do it for the Kulture.