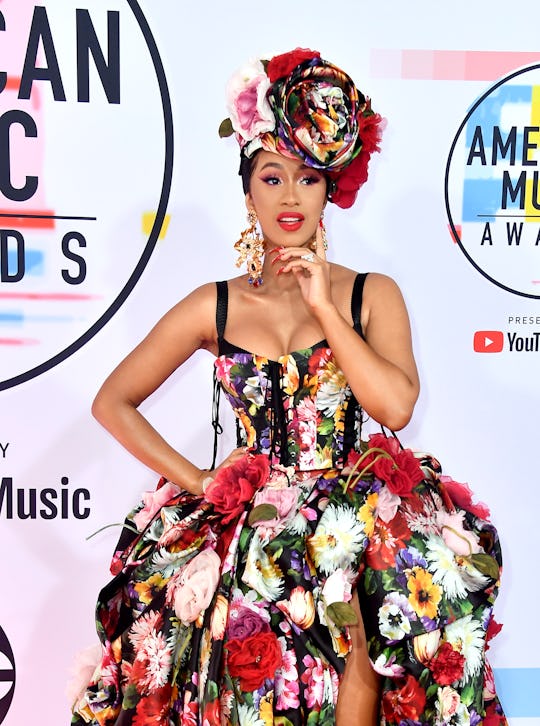 Frazer Harrison/Getty Images Entertainment/Getty Images
Cardi B Hinted That She Wants Another Baby Three Months After Welcoming Her Daughter Kulture
Cardi B may have only welcomed her daughter, Kulture, three months ago, but the "Bodak Yellow" rapper might already have baby fever. On Twitter recently, Cardi B hinted that she wants another baby, and even though it's not clear if she actually intends to go for it (and I don't think any new mom would fault her for wanting to wait), it does seem pretty safe to assume that her little girl could be a big sister at some point.
Though she's kept her daughter out of the public eye since her birth, Cardi has definitely been open with her fans about the impact motherhood has had on her life, and how much she's loving being Kulture's mom. And though she's also admitted that, in some ways, it's been much harder than she expected — for one, the rapper cancelled plans to tour with Bruno Mars once she gave birth and realized she wouldn't be physically or emotionally ready to go on the road — it doesn't seem to have affected what seems to be her desire to have a big family with husband, Offset, who is already a dad to two sons and a daughter from previous relationships, according to People.
In her tweet, she wrote, "Would ya be mad at me if i get pregnant again?" and though her followers had all sorts of opinions, some couldn't help but wonder if she might already be expecting.
The tweet got more than 9,000 comments, ranging from those who couldn't wait to see Cardi pop out another kid, to those who wanted her to grace the world with some new music and tour dates, and then, those who felt like the state of Cardi B's uterus was really no one else's business whatsoever.
But then, of course, there were those who thought the tweet might actually be Cardi's way of prepping her fans for an imminent pregnancy announcement:
If she *is* pregnant — or at least seriously contemplating having another — she hasn't confirmed it, but it does sound like she's already learned that she doesn't have to worry too much about the impact another pregnancy might have on her career. In a recent interview with W Magazine, Cardi said that when she announced her pregnancy with Kulture, those around her seemed to be certain it would put an end to her musical success. She explained:
When I got pregnant, I was f*cking freaking out. Everybody around me was like, "No, this never happened before. Every artist that had a baby, they already put in years in the game. This is your first year. You're going to mess it up. How are you going to make it?" While I was pregnant, I kept telling myself, "I can't wait till I'm back out there. I'm going to look hot, and I'm going to be that bitch."
Their predictions were definitely wrong though: on Tuesday, Forbes reported that Cardi B has now become the female hip-hop musician with the most weeks spent on top of the Billboard charts, thanks to her Maroon 5 collaboration, "Girls Like You," and it's far from being her only big accomplishment. When "Bodak Yellow" reached number one in 2017, it became the first solo female rap single to top the charts in nearly two decades, according to Stereogum, and in November that year, she also became the first woman to have her first three chart entries make the top 10 simultaneously, according to Billboard.
If that weren't enough though? In April 2018, she set a record for the most songs charting at one time by a woman on the Billboard Hot 100 — a record formerly held by none other than Beyoncé.
Cardi B's continuing success is why, when she recently took home the award for Favorite Rap/Hip-Hop Artist at the 2018 American Music Awards, her daughter was the one she actually wanted to thank more than anyone. In her acceptance speech, she said:
I really want to thank my daughter. And not just because she's my daughter, but when I was pregnant I was just so influenced to be like, "Yo, I gotta do this. I gotta show people wrong. I gotta prove people wrong." They said I wasn't gonna make it after I had a baby.
In other words, Cardi B definitely has no time for naysayers, especially when it comes to motherhood. And even though she's invited commentary on the matter by posing a question about having another baby, something tells me that when it really comes down to deciding on baby number two, the only opinions that will actually matter will be hers and her husband's.