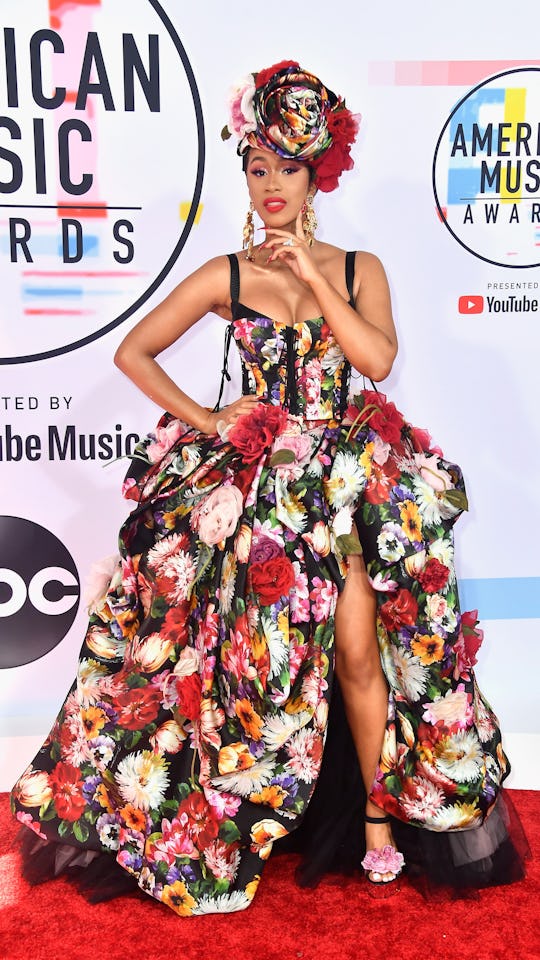 Frazer Harrison/Getty Images Entertainment/Getty Images
Cardi B Gave Kulture The Sweetest Shout Out At The 2018 AMAs
It's definitely an understatement to say that Cardi B's music career is going well. She has dominated the charts since the 2017 release of her first single, "Bodak Yellow," and has also broken all kinds of records — even unseating Beyoncé as the female artist with the most simultaneous hits on Billboard's Hot 100 chart. But this year, the 25-year-old Bronx rapper also became a mom, after she and husband Offset welcomed their daughter Kulture in July. Some expected motherhood to derail Cardi's professional momentum, but on Tuesday Cardi B thanked Kulture in her AMA acceptance speech, and said that her daughter helped her "prove people wrong."
Cardi nabbed the very first award at the 2018 American Music Awards, winning Favorite Rap/Hip-Hop Artist, but while that certainly seemed well-earned she acknowledged that not everyone thought she could succeed. After she confirmed reports of her pregnancy in April — and then later cancelled her plans to tour with Bruno Mars after giving birth — naysayers thought it was inevitable that she'd drop out of the spotlight. But in her acceptance speech she said the following:
I really want to thank my daughter. And not just because she's my daughter, but when I was pregnant I was just so influenced to be like, 'Yo, I gotta do this. I gotta show people wrong. I gotta prove people wrong.' They said I wasn't gonna make it after I had a baby.
From the looks of it, the crowd was totally here for Cardi's big win — they even chanted her name as she went up on stage — but her speech wasn't the first time she has acknowledged that her haters were expecting motherhood to kill her career. In an interview with Power 105.1's The Breakfast Club earlier this year, the rapper was asked whether or not she was worried that she was expecting a baby right when her career was taking off. Her response, according to E! News? Well, she wasn't having any of it. Cardi said:
You know what — I'm a grown woman. I'm 25 years old. I'm a schmillionaire and I'm prepared for this. It just really bothers me and it disgusts me because I see a lot of women online [saying], 'I feel sorry for you. Your career is over.' Why can't I have both? Why do I gotta choose a career or a baby? Why can't I have both. I want both.
Not only has she obviously chosen both, she's also proving that it actually is entirely possible to be a total boss professionally and still be a dedicated, hands-on mama. On Instagram not long after Kulture's birth she revealed that she had decided to forego hiring a nanny to help with her daughter, mostly because she "just wanted to learn how to be a mom" and so that she could "enjoy every single second" of her baby's early days. And even when it started to become clear that her original planning to go on tour only six weeks after giving birth might not end up working out, she made it clear that doing what was best for her and her daughter was unapologetically her first priority.
In an Instagram post in July, the new mom wrote that while it was "such a hard decision" to back out of the tour, she hadn't actually given herself enough time to properly recover from delivering her daughter. And given that her doctors also told her that it wouldn't be safe to bring Kulture on the road with her, she knew she definitely wasn't ready to leave her little girl behind.
Even though most moms don't have to worry about balancing world tours with motherhood, Cardi B's struggle to ensure that she really could still have a career and be a mom is something that a lot of women can certainly relate to. It's not easy to maintain your professional obligations when you also have a little one, especially when it seems that those around you are already expecting that you won't be able to. But her win Tuesday night — and her totally badass speech — is a reminder to all women that they absolutely have the right to do whatever feels best, regardless of what other people may think.