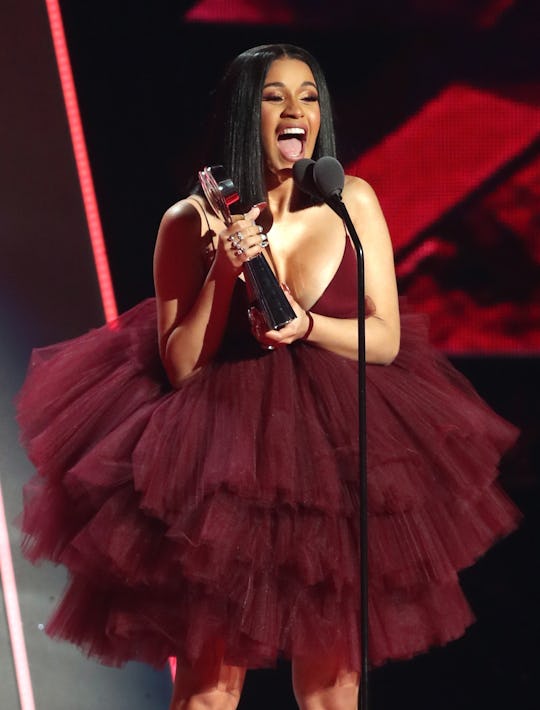 Rich Polk/Getty Images Entertainment/Getty Images
It's Official: Cardi B Is A Mom & Just Welcomed A Baby Girl!
A nursery decorated in shades of Bodak Yellow (I assume) is officially open for business! Rapper/goddess Cardi B has officially given birth to her first child, whom she shares with her husband Offset. She gave birth to Kulture Kiari Cephus on Tuesday, July 10, in an Atlanta, Georgia, hospital, as first reported by TMZ.
Cardi B confirmed the news on Instagram by posting a gorgeous picture of herself naked and pregnant along with her daughter's name and date of birth. It's not much of a surprise that Cardi gave birth to a girl, considering she, Offset, and Cardi's sister, Hennessy Carolina, all dropped plenty of hints that Cardi was expecting a daughter. To add to that, in the photo Cardi posted, she's surrounded by a plethora of pink flowers in every shade imaginable.
Unsurprisingly, Cardi's fans immediately began buzzing with joy for the newest member of Cardi B and Offset's little family. Many took to Twitter to congratulate the new mama:
In the months leading up to giving birth, Cardi constantly expressed excitement and shared the most hilarious commentary regarding her pregnancy, which she first announced during a musical performance on Saturday Night Live back in early April. While Cardi performed her song "Be Careful," the camera slowly zoomed out to reveal Cardi with a noticeable bump.
This confirmation came after several weeks of rumors of a Cardi pregnancy, which were first reported in February by TMZ. Cardi denied the gossip on multiple occasions, the best occasion being an epic comeback in the comments section of an Instagram post in early February. On one of Cardi's posts, a troll commented "Is there maybe a Kylie Jenner secret that we need to know about lol Just asking," The Cut reported. Cardi responded to the hater's comment with:
No b*tch I'm just getting fat. Let me fat in peace.
And since announcing she was expecting on SNL, Cardi has been very open about her pregnancy on social media and in interviews. For example, in early June, she shared a heartbreaking pregnancy update with fans after her bump finally hit that point. "SAD NEWS: I can't see my vagina anymore," she tweeted. "You know how hard it is to shave my vagina? I literally have to put one leg up in the sink while I look in the mirror facefront. I hate all of yaaa."
As mentioned above, over the course of Cardi's pregnancy, Cardi, Offset, and Cardi's sister Hennessy hinted that Cardi was expecting a baby girl on multiple occasions. After Cardi's SNL performance, Hennessy publicly congratulated her big sister on Instagram, People reported. In the caption, Hennessy called the baby "she" and a "daughter," as seen in a screenshot captured and shared by The Shade Room. She reportedly wrote:
I'm going to be able to hold baby you and give her all the kisses and hugs! Your pregnancy is mines we pregnant can't believe we're having a baby! I'm passing my daughter crown down hehehehe.
Soon after, Hennessy edited the post, removing all gendered pronouns in reference to the baby.
A month later, on the day of the Met Gala, Cardi made headlines for calling her baby a "she" as well. "Shorty weighs three and a half pounds," Cardi reportedly told a New York Times reporter in her suite at the Carlyle Hotel while getting ready for the Met Gala last month. "She do ... She do weigh three and a half pounds." A few hours later, as Cardi talked to Met Gala reporters on the red carpet, she referred to her baby as a "she" yet again. "Oh, she wants to fight me!" Cardi joked to ET Online when asked if her baby had been kicking that night.
While it was unconfirmed if Cardi was really expecting a girl or if it was just wishful thinking at that point, Offset made things much clearer over Father's Day weekend in mid-June. After the couple's Rolling Stone cover was leaked, Offset shared it to Instagram with the caption, "Rolling Stone cover, beautiful shoot, can't wait til my daughter get here."
Here's hoping Cardi B can find some time between motherhood and her hella successful music career to keep fans updated on her adventures with her baby girl. Congrats to the new family of three!