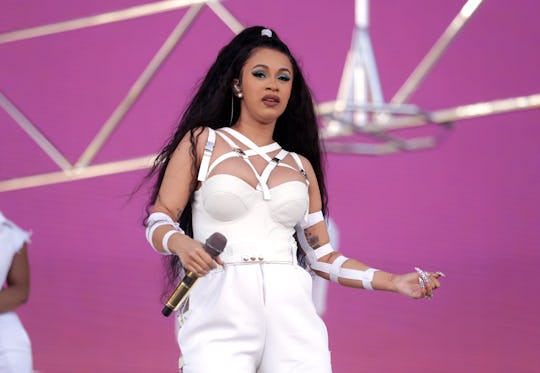 Rich Fury/Getty Images Entertainment/Getty Images
Cardi B & Offset Are Peak Parents In This Doctor's Office Picture
She's making mommy moves. On July 10, Cardi B finally gave birth to her first daughter with husband Offset, Kulture Kiari Cephus. Throughout the course of her pregnancy, Cardi maintained her signature honesty, sharing everything from the discomfort of being in her third trimester to how difficult it was to breathe while she was performing. Now, as the rapper enters motherhood, she's already sharing some super sweet details of her new life. Cardi B and Offset were peak parents in this photo of one of their first doctor's office visits with Kulture, as Cardi posted to her Instagram on Monday evening.
"Doctors visit with mom & dad," Cardi wrote on the photo of her and Offset, who is leaning over and kissing her forehead. She wrote the caption from the perspective of Kulture, who wasn't pictured. (It should be noted that the first photos of the baby have yet to be released, which is par for the course with many celebrities.)
Fans immediately began responding, sharing their well wishes and congratulations to the new family, as well as mentioning how much they are excited to see a photo of Kulture, when the time is right. "Congrats to you and your family! I love what you're doing in the rap game right now and you're a beast! You worked all the way until you were ready to deliver, god bless!" one comment read.
In the days since Kulture's birth, Cardi has shared bits and pieces of her new life, expressing her gratitude to her family and friends, and explaining that being a mom has really consumed her time.
"Thank you to family and friends that's been hitting me up, checking on me," she captioned a parody video of her and Offset, which she reposted to her Instagram on Saturday, Page Six reported. "It's been a little hard for me to reply back cause this mommy job requires full day, all day, all night attention."
On Twitter, she also shared some insight on being a mom: "When parents say, 'If you wake the baby up you putting her back to sleep,' she tweeted this weekend. "I still can't believe it, all mines… Beautiful."
In the months prior to her delivery, Cardi B was also transparent about how she felt regarding fans and followers who doubted that she was ready to become a mom. E! reported she told Power 105.1's The Breakfast Club: "You know what, I'm a grown woman. I'm 25 years old," she told Power 105.1's The Breakfast Club. "I'm a schmillionaire and I'm prepared for this." She continued:
It just really bothers me and it disgusts me because I see a lot of women online [commenting], 'I feel sorry for you. Your career is over.' Why can't I have both?" she added. "Why do I gotta choose a career or a baby? Why can't I have both? I want both.
Both she does have, indeed. In April, Billboard reported that Cardi was forced to cancel the rest of her summer tour dates due to her pregnancy. "Shawty keep growin,'" Cardi said on her Instagram, explaining why she chose to take a break. "I be looking like I be moving and everything but in reality, a b*tch barely can breathe!"
However, Variety later reported that Cardi will be returning to work in September, when she'll be joining Bruno Mars on his 24K Magic tour. The two will be performing together throughout the end of October. Though it's hard to say whether or not fans will be getting more music, more shows, or just more mom laughs, what we can know for sure is that Cardi B is doing her... no matter what.