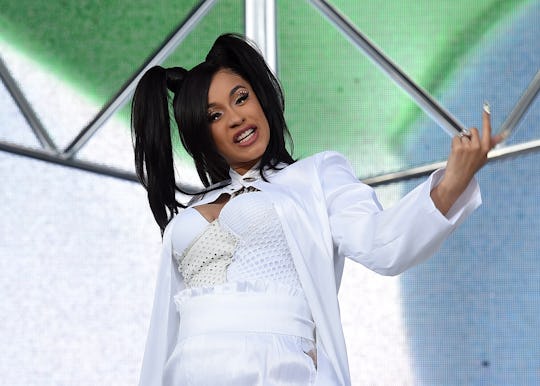 Kevin Winter/Getty Images Entertainment/Getty Images
Cardi B & Offset Gave Fans A Kulture Update With Hilarious New Video
Cardi B and her secret-ish husband, rapper Offset, welcomed their first little daughter together less than a week ago on July 10. The couple are still in the thick of things with their baby, those first scary days when it's tough to get a handle on how to take care of this new person who is suddenly the boss of you in pretty much every way. And they seem like they're sort of loving it. Cardi B and Offset gave fans a Kulture update on Instagram, and it looks like having the new baby has become a full time job.
The "Bodak Yellow" singer has been keeping her followers on their toes with surprises for a few months now; first she shocked the world when she revealed her baby bump during an April performance on Saturday Night Live. Then she also recently revealed that she and Migos rapper Offset were secretly married last September. It was a lot of high drama and espionage, but I guess she had time for that before. Now Cardi B is a new mom to baby girl Kulture Kiari Cephus, and she just doesn't have time for high drama.
But fortunately she and Offset still had time to put together a goofy parody video for us.
In the video, the new mom and dad (although Offset has three other children from previous relationships so he's probably already pretty experienced as a father) pretended to take care of their baby. But the baby was really the camera, so we all got a bird's eye view of what it would be like to have Cardi B and Offset parent us, sort of a Look Who's Talking situation, if you know what I mean. It was a pretty funny video, and Cardi B captioned it with a message to her supportive friends, family, and fans explaining this "mommy job requires full day, all day, all night attention:"
Lmaaaoooo too funny 😂😂Thank you everybody for the congrats we really apreciated❤️.Thank you to family and friends that's been hitting me up checking on me .It's been a little hard for me to reply back cause this mommy job requires full day ,all day ,all night attention .I love you guys .Thanking all my fans as well for the love and support .I love you guys !!😘😘😘I'll try to post more often .
A source close to the 25-year-old "I Like It" singer told Us Weekly that being a mom is bringing real joy to her life, and that she has loads of help from her mother and other family members (despite what the video she posted might make you believe:)
This is everything Cardi has ever wanted and she is already embracing motherhood fully. Her mother and family members have been walking her through the first few weeks and she is cuddled up with her little girl at home.
Cardi B backed up this statement with a tweet she shared on Saturday, saying that she "couldn't believe" her little Kulture is "all mine."
The new parents are in the first flush of parenthood, which can be pretty polarizing. In my experience, it's either magical and wondrous or just incredibly hard or a confusing combination of both. Cardi B and Offset are clearly going to be a good partnership as parents for one solid reason; judging from that video, they like to make each other laugh. Which, let's face it, is probably the single greatest weapon parents can share in the beautiful war that is raising a child; you've got to be able to laugh it off.
Even when parenting feels like a tiring full time job.