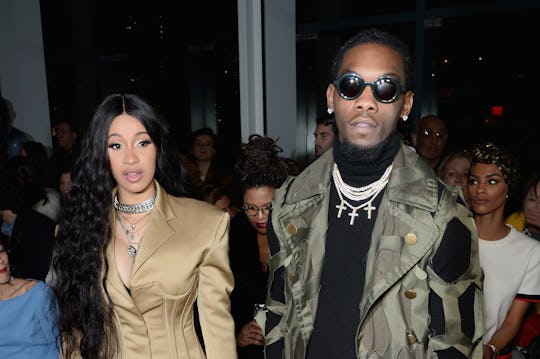 Andrew Toth/Getty Images Entertainment/Getty Images
Cardi B & Offset Reportedly Married In Secret Last Year, & People Are Freaking Out
Cardi B fans might want to sit down for this one. On Monday, TMZ reported that Cardi B and Offset married in secret last year. Cardi B and Offset did not immediately respond to Romper's request for comment. The evidence rests on a marriage certificate supposedly filed on Sept. 20, 2017. Wild, right? And as one might expect, fans are freaking out over this reported revelation, while some people are just confused.
Cardi B and Offset are full of surprises, to say the least. Case in point: After months of speculation, Cardi B revealed the couple's pregnancy news during an exciting performance on Saturday Night Live in April. Although people suspected the pregnancy for a while, no one predicted Cardi B would announce the milestone in such a public way.
And now it looks like Cardi B and Offset have surprised fans once again with their rumored marriage. The compelling evidence centers around a marriage certificated filed on Sept. 20, 2017, in Fulton County, Georgia, according to TMZ. Considering marriage certificates are filed after a wedding, I'd say there's a good chance these two are actually hitched. Unsurprisingly, people are confused about the marriage date because Offset proposed to Cardi B in October 2017, about a month after their supposed secret wedding. Way to keep fans guessing, guys.
Following the news, countless people took to Twitter to express shock and confusion.
"Cardi and Offset were already married BEFORE their engagement?! I'm shook," one person wrote, according to Twitter.
"Me when I find out @iamcardib and @OffsetYRN were already married when they got publicly engaged," someone else captioned a GIF of a confused looking woman.
"So Cardi B and Offset got secretly married in September, he "fake proposed" in October, Cardi's baby is almost due so that means when he proposed she was already pregnant," another fan added. "Why did they play with our emotions lol."
"The fact that @iamcardib and Offset were already married when he proposed hahaa that's some smart stuff," a commenter penned. "Let people think they know what's up."
Another person chimed in: "So Cardi B. and Offset been married for 9 whole months....WTF?"
Yep, I think it's safe to say people are confused and stunned about this news. The astonished reactions are understandable when you consider it's very difficult to keep news like this on the DL. On that note, how did these two manage to hide this secret for so long? Hats off to Cardi B and Offset for their secret keeping skills and acting chops. Cardi B really put on a believable show when Offset got down on one knee in October.
On the other hand, Cardi B and Offset have yet to confirm or deny the news. There's always a possibility this marriage certificate is a misunderstanding of some sorts, and I wouldn't rule anything out at this point.
I don't think it's a coincidence, however, that Offset likely referred to Cardi B as his "wife" at the BET Awards on Sunday night. When Offset joined Migos on the stage to accept the Best Group award, he told the crowd, according to ET Online: "I thank my wife, you should thank yours."
Hmm. My theory is Offset and Cardi B knew the marriage certificate was about to leak (the document was officially recorded by the county clerk's office on Sunday, after all), and they decided to low-key confirm the news via the acceptance speech. I highly doubt the "wife" comment was a simple slip up.
So, here's to Offset and Cardi B's marriage if the report is true. The two are a great couple, and it's wonderful to see their relationship blossom.