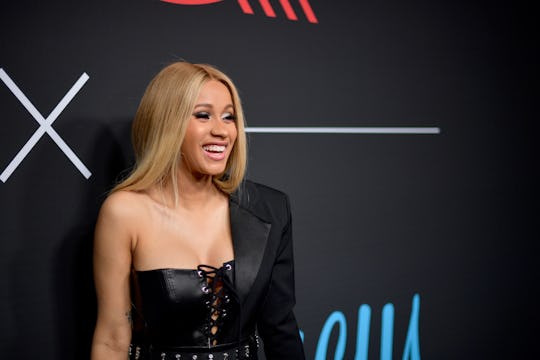 Matt Winkelmeyer/Getty Images Entertainment/Getty Images
Cardi B Can Not Stop Talking About Her Baby Girl
Ever since announcing her pregnancy earlier this year, Cardi B has kept fans in the loop on endless hilarious pregnancy updates. And now that the rapper is officially a mom, you can bet that Cardi B is flooding Twitter with motherhood updates that are just as entertaining.
Cardi B and her husband, Offset, of the hip hop trio Migos, welcomed their daughter Kulture Kiari Cephus on Tuesday, July 10, in Atlanta, Georgia, TMZ reported. The following day, Cardi confirmed that she had given birth by posting an Instagram a gorgeous maternity photo of herself captioned "Kulture Kiari Cephus 07/10/18🎀🌸."
The proud mama has yet to share any photos of her nearly 2-week-old baby girl, but based on the Twitter updates, it's safe to say Kulture already takes after both of her parents. Sunday night, Cardi revealed that Kulture was starting to reveal her moody side. "Kulture is not Kulture today she Kiari with the mood 😩," Cardi tweeted. "But o maaann i love my sweet sweet baby ❤️She melts me like butter." Kiari is not only Kulture's middle name, but her father Offset's real first name. Looks like her moody side comes from her dad, and her "sweet sweet" side comes from her mom. No surprise there.
A few minutes later, Cardi responded to a fan who tweeted at her asking how it feels to be a mom. "Really hard to explain," Cardi replied. "It's beautiful how fast mother instinct kicks in ...never wanna leave my baby side."
And earlier in the day, Cardi shared another simple update. "I love my baby 😍😍😍😍mommy's little baby ❤️," she tweeted.
She's expressed her overwhelming love for Kulture a few other times over the last two weeks. Last week, she tweeted: "I never felt this feeling before 😍I'm In love and my heart feels like it's melting 💖🌸🎀."
And when Kulture was just 4 days old, Cardi tweeted, "I still can't believe it, all mines."
And when Kulture was just 3 days old, Cardi revealed that she finally understood something she's heard parents say in the past. She tweeted:
When parents say "if you wake the baby up YOU PUTTING HER BACK TO SLEEP😤!" I feel that.
If you're a big fan of Cardi's latest album Invasion of Privacy and are already hungry for more Cardi tunes, you can rest easy knowing that she has no plans to stop making music. Shortly after confirming her pregnancy back in April, she tweeted a poetic message to her haters. "I started winning when the whole world was doubting on me! Think imma lose with my little baby counting on me?" she tweeted.
And in an interview with the radio station Hot 97 shortly after announcing her pregnancy, Cardi further opened up about people criticizing her for having a baby at the height of her career. The rapper said the following, according to PopSugar:
I hate the certain things people say ... like 'I feel bad for her. Why is she doing that in the height of her career?' and it's just like why can't I have both? Why do I have to choose a baby or a career? Why do I have to be in my mid-30s to have a baby? What am I doing wrong?
In addition to those fierce pregnancy updates, Cardi also shared some hilarious ones. For example, there was that time in June when she tweeted: "SAD NEWS: I can't see my vagina anymore ☹️."
As a big fan of Cardi's hilarious Twitter account, I'm so glad she is already sharing motherhood updates with her followers — and that she can most likely now see her vagina again.