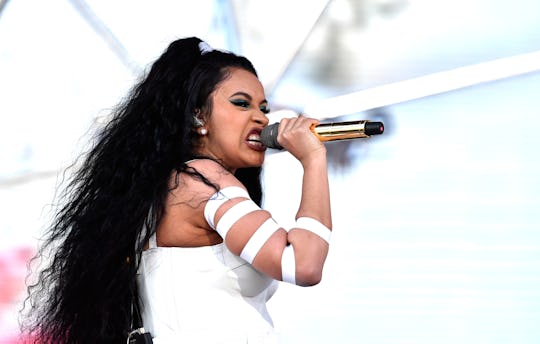 Frazer Harrison/Getty Images Entertainment/Getty Images
9 Of Cardi B's Most Wild & Hilarious Pregnancy Quotes
As if you follow Cardi B on social media, you know that the rapper is very open with her fans. That mindset has certainly applied to her pregnancy ever since she epically announced it to the public, and she constantly updating fans on her time expecting, always selecting perfectly colorful and hilarious phrasing. And Cardi B's most wild pregnancy quotes thus far prove that she is going to be a super cool mom to her baby girl.
Rumors that Cardi was hiding a pregnancy first broke back in February, TMZ reported. However, she didn't announce she was pregnant until about two months later. During an April performance on Saturday Night Live, the camera strategically zoomed out Cardi while she sang "Be Careful," revealing her bump.
But before Cardi even confirmed her pregnancy, she managed to provide fans with an A+ pregnancy quote. In early February (before TMZ reported that Cardi was pregnant), a troll asked Cardi if she was pregnant in the comments section of one of her Instagram photos. "Is there maybe a Kylie Jenner secret that we need to know about lol Just asking," someone commented, according to The Cut. Cardi's instantly iconic reply read: "No b-tch I'm just getting fat. Let me fat in peace."
But then once Cardi actually confirmed she was going to be a mom, the real quotes started. Here are nine times Cardi said wild and hilarious things about her pregnancy.
1. When Her Bump Hit This Devastating Rite Of Passage
They say save the best for last, but I'm going to kick this list off with my favorite pregnancy quote of Cardi B's. One day, her bump suddenly passed a certain point, and Cardi tweeted: "SAD NEWS: I can't see my vagina anymore."
2. When She Talked About Her Pregnancy Grooming Struggles
Most people keep the details of their pubic hair to themselves — but obviously Cardi doesn't. 😉 After her tweet about not being able to see her vag blew up, she tweeted:
You know how hard it is to shave my vagina? I literally have to put one leg up in the sink while i look in the mirror facefront. I hate all of yaaa
3. When She Shared Her True Feelings On Her Baby Kicking
Feeling your baby kick you from inside the womb can range from exciting to painful — and Cardi has no qualms expressing the latter. In an interview at the Met Gala in May, an interviewer asked Cardi if her baby was kicking. "Oh, she wants to fight me!" Cardi responded, ET Online reported.
4. When She Decided To Put Her Daughter's Kicking To Good Use
The baby's kicking was keeping Cardi up at night, causing Cardi to come up with a genius plan to capitalize on said kicking. She tweeted:
Definitely putting my baby in soccer since she loooooveeeee to Kick sooo much 😒😒😒Ommmmggggg .Momma bear wanna sleep
5. When She Pointed Out What Her Baby & Offset Already Have In Common
Cardi has already noticed a pretty hilarious similarity between her husband, Offset, and their baby. She tweeted her frustrations about their shared stubbornness:
I don't have not one good sonogram pic of my babe 😡She always hiding her face with her hands, mean and stubborn like her daddy 😒😒😒
6. When She Shared This Very Real Third Trimester Struggle
Ever an open book, Cardi lamented about her pregnancy getting in the way of her sex life. "I wanna have sex but i loose my breath Soo fast," she tweeted.
7. When She Attempted To Revolutionize The Baby Registry
The idea of an expectant mom registering for presents for herself at her baby shower... actually makes a lot of sense. The pregnant person is the one doing all the legwork, after all. "Doing my registry but i wanna add gifts for myself my baby think i need this Gucci dress," Cardi tweeted. Yasss, mama.
8. When She Opened Up About Her Pregnancy Dreams
Cardi tweeted that she had been having "weird, crazy, spooky dreams" as well as sex dreams throughout her pregnancy.
9. When She Marveled At Her Growing Boobs
In an Instagram video in May, Cardi talked about a few of pregnancy's affects on her body. In addition to pregnancy affecting her hair and skin, she provided some hilarious commentary on her growing breasts:
You see what my child is doing to me? ... T***ies is getting bigger. B***h don't got to go and get her t***es done no more. I got a whole motherf***ing brand new pair of t***ies. I gotta go to Victoria's Secret to get me a new bra.
Cardi's due date is fast approaching, and I'm certainly crossing my fingers that she live tweets her labor. Sure, it would be difficult, but it would also be so entertaining.