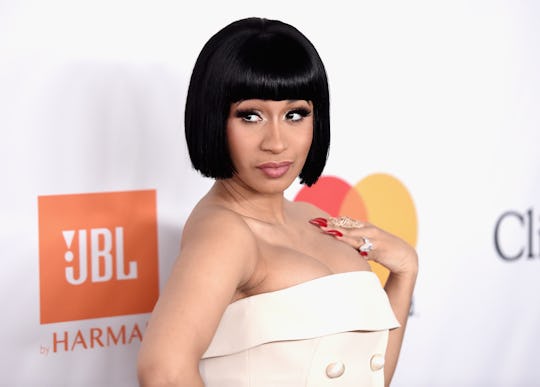 Nicholas Hunt/Getty Images Entertainment/Getty Images
Cardi B's Reps Reportedly Said She's Pregnant At The Super Bowl, & People Are Confused
Another day, another rumored pregnancy in Hollywood. On Super Bowl Sunday, Cardi B's reps reportedly told people she's pregnant, according to TMZ. Obviously, the internet is already freaking out about this supposed baby news. But what's really going on here?
Prior to TMZ's report, Cardi B told a fan on Instagram that she's not pregnant, just getting fat. Cardi B said in early February, according to E! Online: "No b*tch I'm just getting fat. Let me fat in peace, [sic]."
Not to mention, Cardi B revealed to Giuliana Rancic at the Grammys in January that she's always dealing with pregnancy rumors, something she finds a bit tiring.
Cardi B told Rancic about the frustrating situation, according to BET:
So it's just like, if ya'll wanna know, ask me, I'll tell ya. I've been trying to get away from gossip sites. It's been OK. I haven't replied back to no bad comments like in five days.
So, what's the real story then? Although Cardi B has yet to release a statement in response to TMZ's report, the outlet claims her reps confirmed the rumored news at a Super Bowl party in Minneapolis.
Cardi B, who performed at various events throughout the highly-anticipated weekend, including Maxim magazine's Super Bowl party, supposedly turned down the bash's VIP lounge following her set. Why, you ask? TMZ claims one of Cardi B's reps told an event staffer that the rapper didn't want to be in a "party atmosphere" and that she's supposedly three to four months pregnant.
And if Cardi B is actually pregnant, it's likely the baby's father is her fiancé and fellow rapper, Offset. The couple got engaged in October after less than a year of dating. Shortly after Offset popped the question, Cardi B gushed about her "forever" relationship.
Cardi B revealed, according to TIME:
I'm excited because I feel like I'm locked in. He's locked in. That I don't gotta worry about, 'Hmm, is he f*cking somebody else?' He's my man and I know that he's mine and he's committing to me and I'm committing to him. I'm ready to be with this man. Forever. That's why I'm getting married because I want it to be forever.
Although Cardi B and Offset's relationship hasn't always been smooth sailing since the engagement, they've put up a united front throughout the past few weeks. On Sunday night, Cardi B and Offset attended a runway show at 2018 New York Fashion Week and the two appeared to be in good spirits while there.
As for the couple's on hold wedding plans, it might be possible that they delayed the nuptials due to Cardi B's rumored pregnancy.
In January, Offset told Rolling Stone:
We ain't, we ain't planning it right now. We chilling. We don't got time for that right now.
Hmm, is there no time to plan a wedding because Cardi B is busy preparing for a baby? For now, that remains a mystery.
What is clear, however, is that the internet is incredibly excited by the possibility of Cardi B becoming a mom.
Here are some *thrilled* reactions for reference:
Of course, fans should probably wait to pop the champagne until Cardi B confirms the rumored pregnancy herself. If Cardi B is expecting, she has the right to share the news whenever she so chooses. Although Cardi B does live a very public life and she's often quite candid on social media, it doesn't mean that fans have the right to know everything about her private life. As the public learned in the case of Kylie Jenner's pregnancy, celebrities have many valid reasons to keep baby news on the DL.
For now, it looks like Cardi B's fans will just have to be patient and understanding of her privacy.