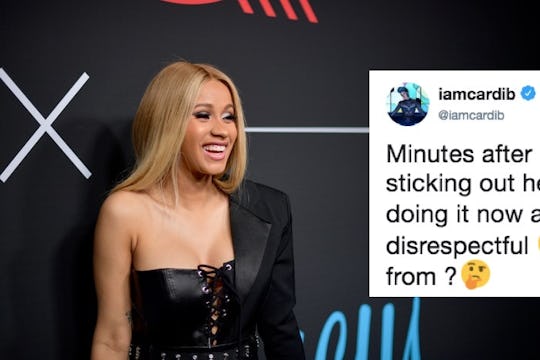 Matt Winkelmeyer/Getty Images Entertainment/Getty Images
Cardi B's 1-Month-Old Daughter Kulture Has Picked Up A Hilariously "Disrespectful" Habit
It's clear that Cardi B absolutely loves being a mama to her baby girl, Kulture. That being said, Cardi B is still being Cardi B, and she never hesitates to tweet hilarious complaints about the good things in her life — in the best way possible. Most recently, Cardi B shared an update on baby Kulture's "disrespectful" habit and it has her fans hysterically laughing.
Late Saturday night, Cardi B took to Twitter to share a glimpse into Kulture's personality. "Minutes after my daughter was born she was sticking out her middle finger and she stay doing it now all the time 😩😂😩😂," Cardi tweeted. "She Soo disrespectful 😩wonder where she got it from ?🤔"
The tweet racked up more than 67,000 likes and several hundred responses — many of which told Cardi that they knew exactly where Kulture got it from. "Her mother 😂❤️," one fan responded. "LMFAOOOOOOO. I love a mommy-daughter power duo!" another responded.
However, some had a feeling that Kulture got it from her dad, Offset. "her daddy!" one fan replied. "Yasssss Set is always giving the middle finger," another fan wrote.
Cardi B and her husband Offset welcomed Kulture Kiari Cephus on July 10, 2018. She announced the happy news on Instagram with a gorgeous photo of herself from her maternity shoot, simply captioned with her baby's name and date of birth.
This is not the first time that Cardi surmised Kulture was taking after one of her parents in a less than ideal way. A few weeks ago, she tweeted: "Kulture is not Kulture today she Kiari with the mood 😩But o maaann i love my sweet sweet baby ❤️She melts me like butter."
For the uninitiated, Kiari is not only Kulture's middle name, but it's actually Offset's real name (his full name being Kiari Kendrell Cephus). Looks like Offset better watch out with the grumpiness, as it's already rubbing off on his daughter!
And in addition to tweeting about Kulture's sass, Cardi has opened up about another important aspect of early motherhood that many parents face: postpartum depression.
Last week, Cardi posted a video by comedian Jay Versace on Instagram. For the video, Versace staged a conversation between himself and his reflection in a mirror. "Who am I inside this body because I don't feel like it's me?" he asks his reflection, getting emotional. They both continue to get increasingly emotional and hysterical over the inner conflict of not knowing who they are, and it's pretty dang funny.
Cardi captioned her upload of the video: "This is how postpartum got me 😩😩The emotional struggle . BARDI vs BELCALIS." Belcalis is Cardi's birth name (her full name is Belcalis Marlenis Almanzar).
And last month, she announced to her fans that she had to drop out of performing on Bruno Mars' tour, explaining that she needed more time to "recover mentally and physically." She tweeted:
As of today I've decided I won't be joining Bruno on tour this Fall. I thought that after giving birth to my daughter that 6 weeks would be enough time for me to recover mentally and physically. I also thought that I'd be able to bring her with me on tour, but I think I underestimated this whole mommy thing. Not only am I just not ready physically, I'm not ready to leave my baby behind since the doctors explained it's not healthy for her to be on the road.
But despite all that, Cardi has made her overwhelming love for her baby girl known on many occasions. The same day that Cardi revealed Kulture's Kiari-like mood, she also showered Kulture with a few compliments. "I love my baby 😍😍😍😍mommy's little baby ❤️," Cardi wrote on Twitter. "It's beautiful how fast mother instinct kicks in ...never wanna leave my baby side."
It's awesome that Cardi keeps her followers so updated on baby Kulture. Here's hoping Kulture's middle finger learns to tame itself sometime soon.