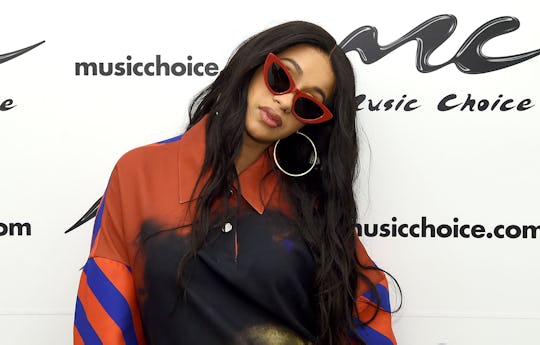 Jamie McCarthy/Getty Images Entertainment/Getty Images
Cardi B Got Real About Those Surprising Pregnancy Perks & Moms Are *Loving* It
Now that Cardi B is about eight months along in her pregnancy, she's starting to open up more about this exciting time in her life. From dishing on the baby's sex (it's a girl) to revealing who named her little one (her fiancé, Offset) Cardi B is an open book these days. And on Sunday night, Cardi B got incredibly candid when she dished on the best things about her pregnancy so far. As it turns out, Cardi B is enjoying *a lot* of pregnancy perks where it concerns her looks. But the best part about Cardi B's admission might be the positive feedback she's getting from parents. Apparently, many people out there can relate to what Cardi B is going through at the moment.
One of Cardi B's best traits is that she has no filter. No matter what the situation is or who she's talking to, Cardi B always says what's on her mind — a testament to her confidence. Want proof? Look no further than this Instagram video of Cardi B getting candid about the pregnancy perks that have surprised her most. In the video, a bra-clad Cardi B tells her millions of followers about her "new pair" of boobs, her "growing and growing" hair, and her fresh looking skin. Yep, it sounds like pregnancy really suits Cardi B. Cardi B dished in the video, according to the Daily Mail:
You see what my child is doing to me? T***ies is getting bigger. B***h don't have to go and get her t***es done no more. I got a whole new pair of t***ies. Victoria's Secret to get me a new bra. Do you see my mother f***in hair? This s*** growing and growing. You see my skin? Look like a b***h put moisturizer on, but I just woke up.
Get it, girl. I love how excited Cardi B is about these perks — her happiness is contagious.
Of course, pregnancy hasn't been completely positive for Cardi B — the rapper is dealing with heartburn issues. Still, Cardi B is appreciative of the "good" her child has done for her so far. "You know what, I be getting really bad heartburn and sometimes I just lose my breath, the mood swings be crazy, but my child do me good," Cardi B added, according to Metro. "I feel good."
Unsurprisingly, many people are thrilled that Cardi B is doing well, and some even went as far to share their own personal anecdotes about pregnancy.
"I feel this SO much. I loved my body and skin when i was preggo," one person commented, according to Instagram.
"You're so right babies do us all good. Skin glowing, hair growing, boobs looking so legit," someone else said.#100 #motherhood #baby #babyfever
"You look beautiful!!! Yeah your skin is glowing!!! If only we could bottle that," another person added. "Cuz now with 3 I only have time to wash my face with dish soap!!! Sorry about the heart burn!! That's the worst!! Super small meals OFTEN!! Hang in there, mama!!!!"
Yep, I think one of the most amazing things about celebrity is that it gives people the chance to connect with a wide audience. It's incredible that Cardi B gets to chat about her pregnancy with fans, and that she has the opportunity to hear about other parents' experiences.
Amid all the well wishes and anecdotes, however, a debate started about the cause for heartburn during pregnancy. While some people believe heartburn means Cardi B's baby will arrive with *a lot* of hair, others argue it has to do with a little thing called progesterone.
"Heartburn means hair!!! She will have lots of hair!!!" someone said, according to Instagram.
"How do people really believe this??" a commenter said in response to the heartburn and hair argument. "That has absolutely nothing to do with heartburn... it's because progesterone relaxes the esophageal sphincter and the uterus crowds the stomach so it expels what is in it."
And the fan who mentioned progesterone is right. Heartburn occurs when "progesterone, the hormone that relaxes muscles in pregnancy, also relaxes the stomach valve that keeps acid out of the esophagus," according to Health. The good news for Cardi B is that are a lot of natural remedies she can try to ease this annoying symptom. From eating smaller portions to lying down immediately after meals, Cardi B has options.
So, here's to Cardi B relishing her last month of pregnancy with fans by her side. It's great to know Cardi B doing well, and it's even more wonderful to witness the love she has from fellow parents.