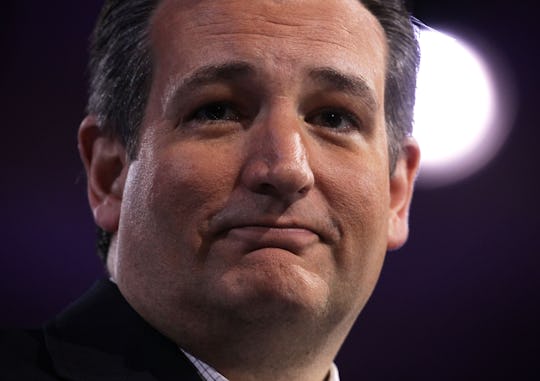 Alex Wong/Getty
Carly Fiorina Endorses Ted Cruz & It Could Be Just The Bump He Needs
At a campaign rally in Miami, Florida, former Hewlett-Packard CEO and once GOP presidential hopeful Carly Fiorina endorsed Texas Sen. Ted Cruz. Fiorina took the stage Tuesday morning, sharing an anecdote about voting in the Republican primary in Virginia on Super Tuesday last week:
"I walked into the ballot box and I looked at the ballot. I saw my own name on the ballot — it was kind of a thrill. But then I checked the box for Ted Cruz."
This latest endorsement for the senator from Texas is much needed, as Cruz has been chasing the tails of fellow candidate and real estate magnate Donald Trump — a legitimate contender for the GOP nomination. Cruz managed to pick up three states on Super Tuesday: Alaska, Oklahoma, and his home state of Texas — but he still trails Trump by just over 100 delegates. Since Super Tuesday, Cruz has only managed to pick up three more states — Kansas, Idaho, and Maine — out of the eight that have held primaries since then.
At the Miami rally, Fiorina called Cruz a "constitutional conservative" and a "fearless fighter and reformer." Her endorsement was met with almost stereotypical crowd reactions that have become the norm at GOP rallies: Jeers for immigration reform, social issues, and the current administration, followed by raucous cheers of support for the Second Amendment, religious liberty, and sovereignty.
Fiorina's endorsement of Cruz lasted for almost four minutes. In her remarks, Fiorina called out the Republican establishment after its presidential loss in 2012, saying it appeared to her as though the GOP "needed not to rock the boat too much" in terms of their willingness to work with President Barack Obama during his second term. I don't know what to what Republican establishment Fiorina was referring, given that the Republican-controlled Congress has filibustered "about 500 pieces of legislation" — according to Obama himself, speaking at a Democratic Congressional Campaign Committee event in 2014. In a quote that could have been spoken by President Frank Underwood from this season's House of Cards, Fiorina continued:
In order to lead, you must challenge the status quo. And when you challenge the status quo, guess what? You do more than ruffle feathers: You make enemies. It is part of it. That is the price of leadership.
While at first glance this might appear as a not-to-thinly veiled jab at Trump, Fiorina went on to talk about how Cruz's notorious reputation as difficult to work with on the Hill — and the enemies he's made — are what make him the best choice for President of the United States, despite this obvious contradiction in logic.
Watch Fiorina's endorsement of Cruz on Tuesday in full below: