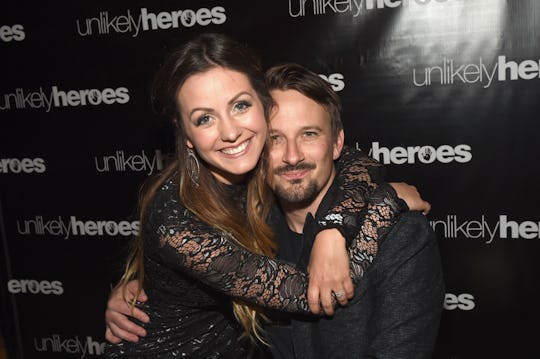 Rick Diamond/Getty Images Entertainment/Getty Images
Carly Waddell Shares An Adorable Bump Photo As She Counts Down To Her Due Date
There seem to be two kinds of celebrities these days when it comes to pregnancies; people who like to keep it under wraps (I'm looking at you, Kylie Jenner) and those who love to share every little thing. Carly Waddell falls into the latter camp. The Bachelor In Paradise star has been a joyful social media sharer throughout her pregnancy, and it's actually quite sweet. But don't expect the pizza craving and "I've split my pants" posts to go on for too much longer, folks. Waddell shared a pregnancy update on Instagram on Wednesday, and it looks like her due date is coming up fast.
Waddell and her husband, fellow Bachelor In Paradise alum Evan Bass, are expecting their first child together on Feb. 16. The couple have been through something of a romantic whirlwind since meeting on the reality show — they got married last June, and announced they were expecting their first baby in August. Bass has three sons from a previous relationship, Nathan, Liam, and Ensley. This baby will be the first for Waddell. And she's clearly over the moon with excitement about being a first-time mom. On Wednesday, Waddell shared a gorgeous bare bump photo, and dropped the news of her due date in the caption:
Oh hey baby (baby due Feb 16th)
It seems almost impossible to believe that Wadell's due date is just around the corner... less than a month away, in fact. Hard to believe it's already been nearly six months since her adorable gender reveal photo with Bass and his three sons, where she proudly shared a pic of the growing family on Instagram with the caption:
This is our professional Gender Reveal photo! 😂 IT'S A GIRL!!!! I'm not the only girl anymore! Woo Hoo!!!!
Waddell and Bass recently shared the name of their baby, not long after their new arrival was honored at their baby shower in Nashville, Tennessee, by fellow Bachelor alumni like Kaitlyn Britsow, Juelia Kinney, and Jade Roper.
Evan and I are SO EXCITED to reveal our little angels name on the sweetest new born blanket from @shophighway3! Her full name will be Isabella (Bella for short 😍) Evelyn Bass, and we love her so much already! Can't believe in about one month we will be wrapping her up in this soft, cuddly little number!
Waddell and Bass' lives have been on turbocharge ever since September 2016, when the erectile dysfunction specialist proposed to her on Season 3 of Bachelor In Paradise with a romantic speech:
I want my kids to see a love like we have, and I want them to know an amazing woman like you are. Carly, I wanna chase after the fairy tales, and go on all of the adventures, and find all of the interesting things in this world to explore.… I wanna start a life with you. I want you to be my wife. Carly Waddell, will you freaking marry me?
It's been less than a year and a half since that proposal, and their lives look very different now. They got married, went on a honeymoon, found out they were expecting less than two months later, and will welcome a baby girl within the next month. But the couple, who are about to become a family of 6, seem to be taking things in stride. Because that's the way it is sometimes, I guess. Life happens at breakneck speed, and there are those people who panic and those who embrace the chaos. I have a feeling Carly Waddell and Evan Bass are the kind of people who know how to roll with it.
As Bass said during his proposal, he wants to "chase the fairy tale." It looks like they might have found it.
Check out Romper's new video series, Romper's Doula Diaries:
Watch full episodes of Romper's Doula Diaries on Facebook Watch.