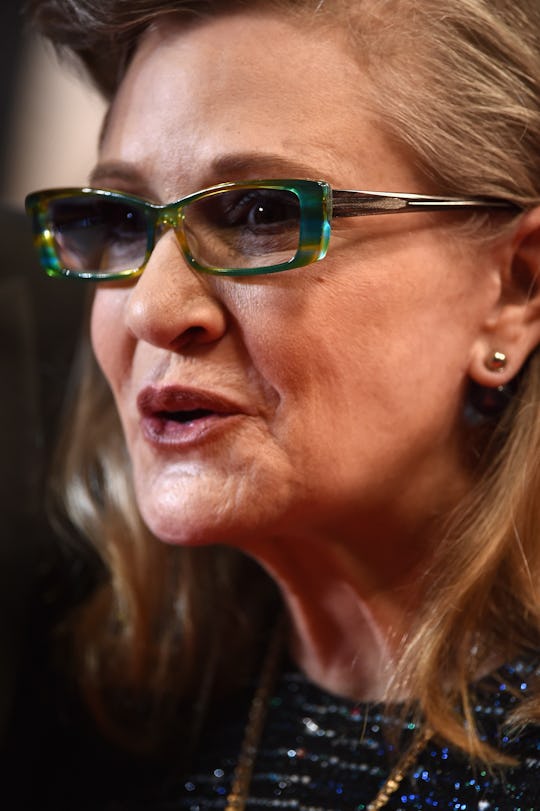 Ian Gavan/Getty Images Entertainment/Getty Images
Carrie Fisher Taught Us To Write Our Own Stories
When I was a little girl, I understood myself. Better than I do now, in many ways. I understood the world I created out of the quiet, I understood all of the people I knew I was going to be some day. It was other people I didn't understand. How they thought they knew how my story would end up before I did, or who they thought the main character might be. That was until Princess Leia came into my life. And everything changed. Because Carrie Fisher taught girls how to be the heroes of their own stories. And sure, it might have started with Princess Leia, but she was truly just the tip of the iceberg.
Leia was the catalyst, the first hint for me (and millions of other young girls) that maybe it didn't matter what everyone else thought about us. Maybe their version of our stories didn't matter; Maybe our own version was the only one that was important. Because look at Princess Leia: I remember seeing Star Wars for the first time, and my brothers (who were just little boys learning about their own stories, and so can be forgiven) talked on and on about Han Solo, Darth Vader, Luke Skywalker. And what did they think of Princess Leia? "She was pretty." "It's cool how Han and Luke saved her." And I remember thinking, is that what they saw?
Because here was what I saw: a girl who loses her entire planet, and still refuses to be bullied. A princess who fights with the Resistance, and is in charge of her own destiny. I was obsessed with Princess Leia. For months I wore one of my mom's white turtlenecks as a dress with a belt to hold my lightsaber (because in my story, Leia got a lightsaber). My hair was perpetually in hamburger-shaped buns on both sides of my head. Not because I loved Star Wars (which I did), but because some deep, secret part of me connected with Leia. And I certainly wasn't the only one.
When comedian and actress Tina Fey learned about Carrie Fisher's death on Tuesday, she released a statement to Time, saying,
Carrie Fisher meant a lot to me. Like many women my age, Princess Leia occupies about 60 percent of my brain at any given time. But Carrie's honest writing and her razor-sharp wit were an even greater gift. I feel so lucky that I got to meet her. I'm very sad she is gone.
Fey is right. What started with Leia for so many young girls, that sense of ownership of our own destiny, grew into something deeper as women. For many of us, our truth-telling and resistance to be defined by anyone other than ourselves found a true home in Carrie Fisher. A woman who fought to be her own true self her entire life; who openly shared tough stories about her upbringing in Hollywood, her bipolar disorder, her love affairs, and her issues with drug addiction because she believed in herself. Because she was writing her own story, no matter what.
It was that dedication to herself, that self-effacing, unapologetic wit, that has left so many of us heartbroken in her absence:
Of course, I never met Carrie Fisher; few of us ever did. And yet I am sitting here feeling... bereft. As are so many others. For so many of us women, and hopefully for many generations of girls to come, Fisher represented true feminine grit. She was that beacon, that reminder that no matter what life threw at me (and it threw plenty), I was still writing my own story. That no one else got to write it for me, just as no one else gets to write her story for her.
And so we will say, in honor of her own, actual previous request, that "Carrie Fisher drowned in moonlight, strangled by her own bra."
It was the obituary she wanted. It's the obituary she wrote. And it's the obituary she deserves.