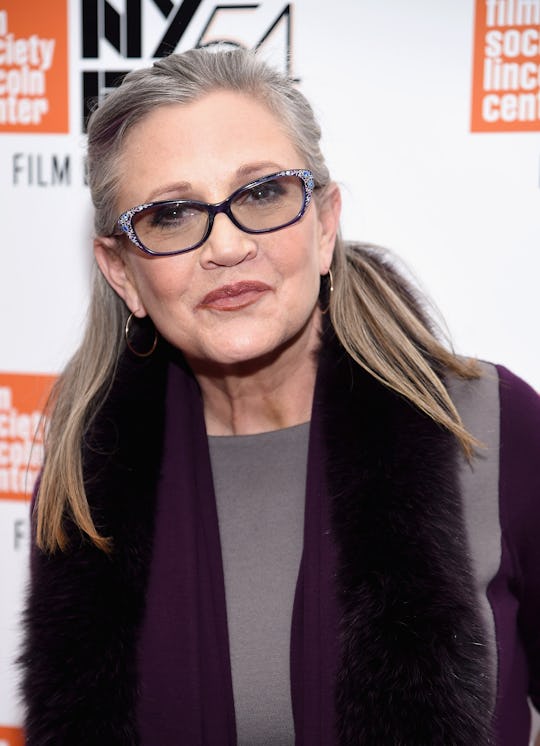 Dimitrios Kambouris/Getty Images Entertainment/Getty Images
Carrie Fisher's Last Tweet Is As Funny As She Was
As if 2016 hadn't already solidified itself as the worst year ever, news quickly spread that beloved actress, writer, and producer Carrie Fisher has died at the age of 60. After sustaining a severe heart attack during a flight to Lost Angeles, Fisher succumbed to her injuries, passing away at 8:55 Tuesday morning. Thankfully, we have Carrie Fisher's last tweet to hold onto; a reminder of her timeless wit and charm that made her a fan favorite for decades prior to her passing, and for decades to come.
Sure, Fisher's last tweet is, well, a little difficult to read. Then again, perhaps I am one of those "disobedient" people. With Fisher, of course, you never really know. While she is best known for her portrayal of the one and only Princess Leia in the wildly successful Star Wars franchise, Fisher was also known for her crass humor and unapologetic wit. She was as fearless as she was smart, so she pulled no punches in being her authentic, hilarious, multitalented self. Perhaps, in the devastating loss that is her passing, we can hold onto the lessons even something as simple as a her twitter account, can teach us: you don't have to take yourself too seriously. Ever.
Fisher's last tweet is dated on Dec 21, the Wednesday before she suffered a major heart attack on an United Airlines flight to LAX from London on Friday, Dec 23. The last update on Fisher's condition was given by her family on Sunday, Christmas Day, in which the media was told that Fisher was in stable condition. Just as the world let out a collective sigh of relief, as it appeared that Fisher was "out of the woods," a statement was released by Fisher's daughter, Billie Lourd's, publicist:
It is with a very deep sadness that Billie Lourd confirms that her beloved mother Carrie Fisher passed away at 8:55 this morning. She was loved by the world and she will be missed profoundly. Our entire family thanks you for your thoughts and prayers.
Of course, not only is Fisher's twitter providing fans with the (now very necessary) ability to feel close to the mental health advocate and actress, it's also giving fans an outlet in which to express their grief, their love, and their appreciation for Fisher and the many gifts she gave the world in 60 years. Still, whether it's looking back at funny tweets of her with comedians like David Cross, or Fisher "blunting around" at a Christmas party, we get to hold onto images of her when she was happy, thriving, and living her best life.
Thank you, Carrie Fisher. Whether it's the work you gave us on screen, or the snippets of your life you gave us in 140 characters or less, we will never, ever, forget you.