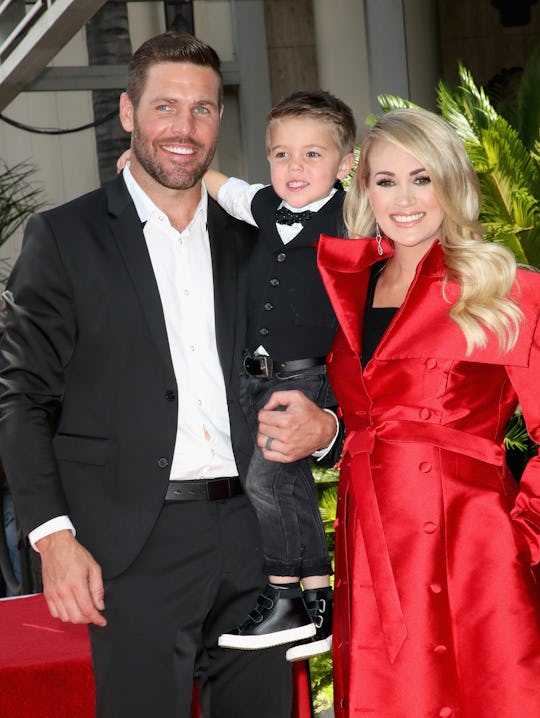 David Livingston/Getty Images Entertainment/Getty Images
Carrie Underwood's Shout Out To Her Hubby & Son At Her Hollywood Star Event Was So Heartwarming
Keeping family out of the limelight is a big priority for many celebrities. But there are those days that just seem to call for the whole gang to be there. That was the case Thursday as Carrie Underwood brought her son Isaiah to the ceremony for her star on the Hollywood Walk of Fame. The cute family looked set for a night on the town for the happy mom's big day.
Isaiah arrived in his dad, Mike Fisher's arms, and perfectly matched his dad's formal suit with a white shirt, vest, bow tie, jeans and sneakers, according to E! News. During her speech, Underwood thanked Fisher and Isaiah, saying: "He believes in me and we had another little man that believes in me too. Isaiah Michael I love you so much. You're the best thing we ever did, the best thing. I love you and I'm proud of you and I believe in you too," as seen in video posted to Twitter.
Belief was a theme throughout Underwood's speech, during which she wondered about her miraculous rise to fame. "How is this my life?" she asked. "How does a girl from Checotah, Oklahoma, end up with a star on the Hollywood Walk of Fame? I'll tell you how — belief. I've been so blessed to have… so many people who believed in me," she said, according to TODAY.
Underwood cried throughout her speech, during which she also thanked her family and support staff, and marveled at the good fortune of having her star outside of Capitol Records. She was toasted in speeches by Simon Cowell and Brad Paisley, as shared on Twitter by Variety. Paisley compared her to Dolly Parton and called her an ambassador of country music, and Cowell remembered how he was having the worst season of American Idol ever, describing it as just shades of grey, until Underwood came in with her audition and turned the show "into full color." "I thought 'we may have found a great artist here'. And we did," Cowell said, according to Variety.
Underwood sported her own colorful palette at the event in a gorgeous red trench coat that showed off her pregnancy bump. She is currently expecting her second baby, and told Ellen DeGeneres on Wednesday that although they know the sex of the baby, they are not revealing it yet, according to Us Weekly.
"We like to kind of just hold on to things for a minute. I feel like everybody just knows everything about everybody so we just like to have a little secret for a little while," Us Weekly reported on her visit with DeGeneres.
Underwood also recently revealed that she suffered three miscarriages before this pregnancy, according to CBS News. She told the story of the night she thought she'd suffered a fourth one and leaned on her faith, as she told CBS News:
And I was like, "Why on Earth do I keep getting pregnant if I can't have a kid? Like, what is this? Shut the door. Like, do something. Either shut the door or let me have a kid." And for the first time, I feel like I actually I told God how I felt. And I feel, like, we're supposed to do that. That was like a Saturday — and the Monday I went to the doctor to, like, confirm, another miscarriage. And they told me everything was great!
Just one more thing to be happy about for this true American sweetheart.