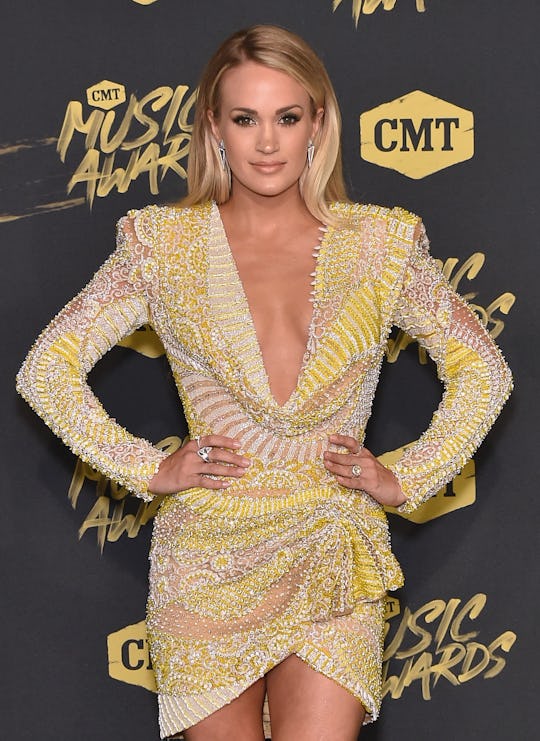 Mike Coppola/Getty Images Entertainment/Getty Images
Carrie Underwood Opened Up About Suffering 3 Miscarriages Over The Last 2 Years
Carrie Underwood and her husband, hockey player Mike Fisher, are currently expecting their second child together, and the whole family (3-year-old Isaiah included) are undoubtedly over the moon. But to get to this point of a second healthy pregnancy, Underwood went through a lot of hardships. In a new interview, Carrie Underwood opened up about suffering three miscarriages in the last two years, and her story is sure to resonate with parents who have also experienced pregnancy loss.
Sunday morning, CBS News published an interview with Underwood, conducted by Tracy Smith for The Record. When Smith asked Underwood about the meaning behind her new album title, Cry Pretty, Underwood explained that 2017 just "wasn't how she imagined it." Smith asked the American Idol winner how come that was, and Underwood replied: "I'd kind of planned that 2017 was, you know, going to be the year that I work on new music, and I have a baby. We got pregnant early 2017, and didn't work out."
A few months after that first miscarriage, Underwood experienced another one. "In the beginning it was like, 'Okay, God, we know this is, just wasn't Your timing. And that is alright. We will bounce back and figure our way through it,'" she told CBS News. "And got pregnant again in the spring, and it didn't work out."
And then earlier this year, Underwood suffered her third miscarriage. "Got pregnant again, early 2018. Didn't work out," Underwood told CBS News. She was clearly devastated, but she told CBS News that she was able to channel those feelings into her music. "...I would literally have these horrible things going on in my life, and then have to go smile and, like, do some interviews or, like, do a photo shoot or something, you know? So it was just kind of, like, therapeutic, I guess," she told the news outlet.
Early on in this pregnancy, Underwood feared she had experienced a fourth miscarriage. "I was like, 'Why on Earth do I keep getting pregnant if I can't have a kid? Like, what is this? Shut the door. Like, do something. Either shut the door or let me have a kid,'" she told the outlet, adding that she prayed and told God how upset she was. "That was like a Saturday — and the Monday I went to the doctor to, like, confirm, another miscarriage. And they told me everything was great!"
This was the first time Underwood publicly opened up about her miscarriages, and the information sheds a light on controversial comments she made last month. "I'm 35, so we may have missed our chance to have a big family," she told Redbook for its August cover story. "We always talk about adoption and about doing it when our child or children are a little older." Many people tweeted criticisms of Underwood's statement, asserting that many women can still have children at age 35, as Shape reported at the time. Now that Underwood has disclosed her fertility struggles, it makes sense that she felt she had missed her chance to have another child.
That being said, it is still very much possible to get pregnant after age 35, though there is a greater risk of miscarriage and stillbirth, according to the American College of Obstetricians and Gynecologists. And Underwood herself has proved that to be true. Within days of the Redbook interview, Underwood announced her pregnancy in an Instagram video, captioning it, "Ooh baby do we have a bundle of info to share with you!"
Even though Underwood and Fisher are so grateful to be expecting, their son Isaiah is a little out of the loop. In a recent appearance on The Tonight Show Starring Jimmy Fallon, Fallon asked Underwood if the 3-year-old understood he was going to be a brother, she replied: "I don't think for real he does," according to People. "He'll be really sweet and talk to my belly and kiss my belly. He's the sweetest little boy. But no kid can really know that their life is going to change ... He'll have to share Mommy."
It's clear that the Underwood-Fisher family is so excited to welcome their new bundle of joy, and I personally can't wait for the baby pictures.