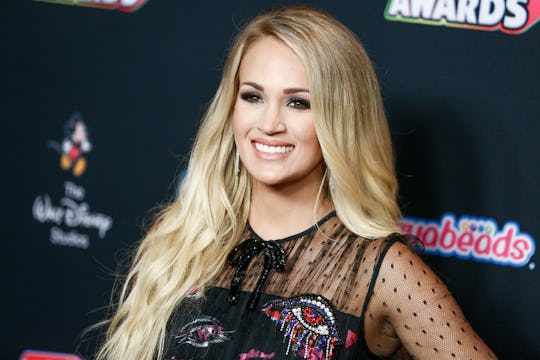 Rich Fury/Getty Images Entertainment/Getty Images
Carrie Underwood Is Pregnant With Baby No. 2 & Her Announcement Video Is Too Cute
The country music scene is about to have another star! Carrie Underwood is pregnant with baby no. 2 with husband Mike Fisher, according to Us Weekly. The singer announced the exciting news in a video she posted to her Instagram account Wednesday morning, August 8th.
Underwood didn't spill the beans about her pregnancy right away in the three-video Instagram post, though. Instead, the 35-year-old American Idol alum, who's mom to 3-year-old Isaiah Michael, first plugged her new album, Cry Pretty, which drops September 14, and its corresponding 360 tour next year, Us Weekly reported. Then, after about a minute into the next video, Underwood acknowledged that fans may be curious as to why the Cry Pretty 360 Tour is starting in May 2019.
The camera pans out to reveal pink bubble balloons tacked to the curtain backdrop that spell the word "Baby."
"Mike, Isaiah and I are absolutely over the moon and excited to be adding another fish to our pond," the Nashville star said in the video, according to Us Weekly: "We're just so excited and glad you guys can share this with us and be a part of it. Love you guys! We will see you on the road in 2019!"
But Underwood wasn't completely secretive. She did drop a hint in the rather clever caption of her Instagram post, which read:
Ooh baby do we have a bundle of info to share with you! Click here for info on The Cry Pretty Tour 360! #CryPrettyTourBundle#CryPrettyTour360#CryPrettyAlbum@CALIAbyCarriehttp://www.carrieunderwoodofficial.com/
Of course, Underwood's fans could not be happier for the "Dirty Laundry" singer and her family. One Instagram user wrote, "Hurray!! Big congrats!! We are excited for all the big news!!" While someone else commented, "You are just adorable... I'm so happy for you, Mike and Isaiah. Congratulations!"
Another commenter said, "Omg, I'm super happy for you and your family. Hopefully you have a beautiful girl like you. Congratulations."
The pregnancy announcement comes just a month after Underwood and Fisher, a former hockey pro, celebrated their eight-year wedding anniversary, according to People. The couple welcomed their son, Isaiah, just a few years after they wed, and experienced some anxiety about striking that ever-elusive work-life balance.
Underwood told People in April of last year:
I remember when we first found out we were gonna have him it [was] like, 'How are we gonna do this? Our lives are so crazy as it is.'
She continued, according to People:
But you just make room and you learn how important that family time is, and to be able to spend time and carve out some of that and maybe get to go on vacation and maybe get to go on a cruise — that stuff is so important to, like I said, make time for family. That's what it's all about.
But Wednesday's pregnancy news was also revealed a few months after Underwood suffered a nasty fall at her home, sustaining injuries to her wrist and face. The mom-to-be hurt her face so badly that she needed 40 to 50 stitches.
In fact, she stopped sharing photos of herself on social media in the months following the accident so that she could both heal and learn to feel "normal" again, according to Today. The American Idol winner told Today Show host Hoda Kotb back in May, about seven months after the accident:
In the beginning, I didn't know how things were going to end up. It just wasn't pretty. I have a dedicated team of professionals who can spackle and paint and paste. But every day I'm feeling a little more back to normal.
Underwood has seen her fair share of ups and downs recently, but this is certainly an exciting time for the popular country singer. Congratulations to the happy family!