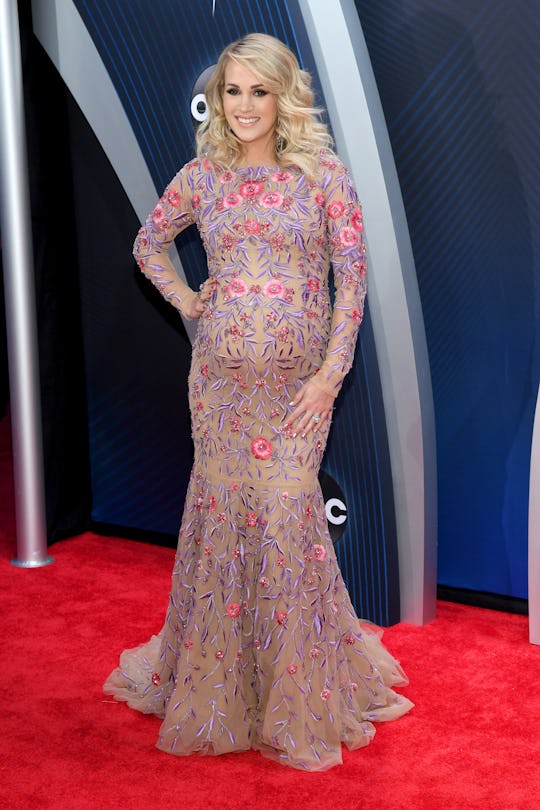 Jason Kempin/Getty Images Entertainment/Getty Images
Carrie Underwood Finally Revealed If Baby No.2 Is A Boy Or A Girl
Carrie Underwood hosted the Country Music Awards on Wednesday night, and of course she looked utterly stunning. She's one of those women who manages to make pregnancy look so amazing, which is a feat not all of us have pulled off (like me, for instance). As great as Underwood looked, the big news of the night wasn't all of her outfits — it was her baby. That's because Carrie Underwood revealed the sex of her second child while hosting the CMAs, so we can all stop placing bets and guessing now.
Underwood first announced that she and her former NHL player husband Mike Fisher were expecting their second child back in August. The couple, who got married in 2010, are already parents to 3-year-old son Isaiah Michael, were excited to tell fans that they were adding to their "little pond" with Underwood's Instagram post, "Mike and Isaiah and I are absolutely over the moon and excited to be adding another little fish to our pond. This has just been a dream come true with album and baby news and all that stuff we're just so excited." At the time, that was pretty much all the information Underwood was willing to share about her baby... until now.
As co-host at the CMAs on Wednesday night, Underwood is naturally expected to engage in a little light banter with her co-host and real life friend, Brad Paisley. The two started joking about the fact that Paisley "accidentally" revealed the sex of her first baby at the 2014 CMAs, when he pointed at her then-pregnant belly and announced that they "could call him Garth."
It was a big shocker at the time and even launched a new hashtag, #BradBlewIt, but it was all for show. The two had planned the reveal ahead of time, as Paisley told Country Living, so no harm done. Apparently the joke went over so well last time, the co-hosts decided to do it again. Which fans were apparently anticipating.
Paisley asked Underwood on stage at the CMAs if she remembered when he accidentally revealed the sex of her first baby, which she obviously did. Then he tried to get a little more information out of her by asking, as per People:
Seriously Carrie, give me a little baby hint? Johnny or June? Keith or Nicole. Garth or Trisha. Tim or Faith. George or Tammy. Waylon or Willie?
Now before I tell you how she responded, you should know fans were guessing Underwood was expecting a girl based on the pink jacket she wore in her Instagram announcement in August.
It looks like fans were wrong; Carrie Underwood is expecting another boy. She finally admitted to Paisley "Oh my gosh — Willie, it's a Willie ok!?" Of course everyone at the CMAs burst out in applause. Her rep confirmed the baby's sex with multiple news outlets on Thursday.
Still no news on the baby's name or due date, so there are plenty more opportunities for guessing. But at least now we know Underwood's having a boy. I can sleep easy tonight.