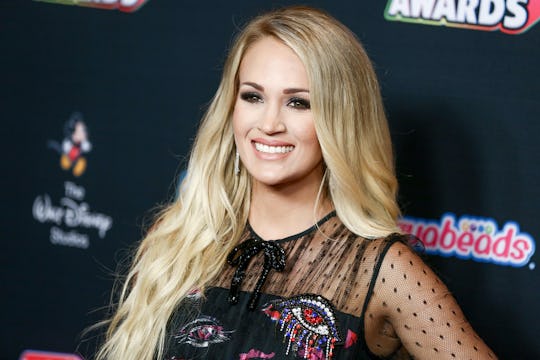 Rich Fury/Getty Images Entertainment/Getty Images
Carrie Underwood Thinks Being A Mom Of 2 Will Be A 'Different Ball Game'
Carrie Underwood is pregnant with her second child, and she's already starting to think about how her life is going to change. After all, being a mom to one person is one thing, being a mom to two kids is most definitely another. I am a mom to four humans, and let me tell you this just to scare the living daylights out of you; the jump from one to two kids is quite honestly the hardest adjustment ever. So when Carrie Underwood says being a mom of two will be a "different ball game," I'm like girl, you don't even know.
The Cry Pretty singer and her husband Mike Fisher are already parents to 3-year-old son Isaiah, so it's not like they'll be totally unprepared to welcome a second baby. Although that three year space can sometimes be enough to give you time to forget all of the parenting things you thought you would always remember. Like how it feels to give birth and changing diapers and night feedings and such. But it seems like Underwood is already well aware of how things are going to be different once their second baby comes into this world at an as-yet undisclosed time.
She spoke to The Tennessean recently about her upcoming Cry Pretty tour, which is scheduled for May 2019, and of course becoming a mom for the second time.
It's going to be a different ball game, for sure. My brain, I'm such a planner. I want to know how it's all going to go. But no matter who you are, you make it happen, you make it work, you get your team behind you.
Sing it, sister. Having a team to support you as you transition from one child to two is integral. Ideally that support system will include free babysitting services and someone who will bake you cookies and/or allow you to shower in peace while they hang out with your kids.
Underwood initially let fans know that she was expecting a second baby via an Instagram video on August 8, when she said, according to People:
You might be wondering or asking, 'Carrie, why is your tour starting in May?' Well … yay! Mike and Isaiah and I are absolutely over the moon and excited to be adding another little fish to our pond. This has just been a dream come true with album and with baby news and all that stuff. We're just so excited and just so glad you guys can share in this stuff with us and be a part of this with us. Love you guys! We will see you on the road in 2019.
While the country singer was nice enough to let fans know she was pregnant for the second time, she's not saying whether or not she's having a boy or a girl just yet. Even though some fans assume she wore a pink jacket in her Instagram video, she told The Tennessean that she doesn't even know herself yet:
I don't know what it is. You've got a 50 percent chance you're correct. I have no idea.
Whether her baby is a boy or a girl, she feels pretty confident that Isaiah will make a "really good big brother," and be "helpful" when the new baby arrives. Which would be great in a perfect world, of course. But in a 2017 interview with Entertainment Tonight, Underwood admitted that her son tends to get a little jealous sometimes:
If a dog climbs up on my lap, I feel like he gets a little jealous of the dog!
When the second baby comes, it will probably be a little mix of both. And I'm sure Carrie Underwood will handle it just fine.