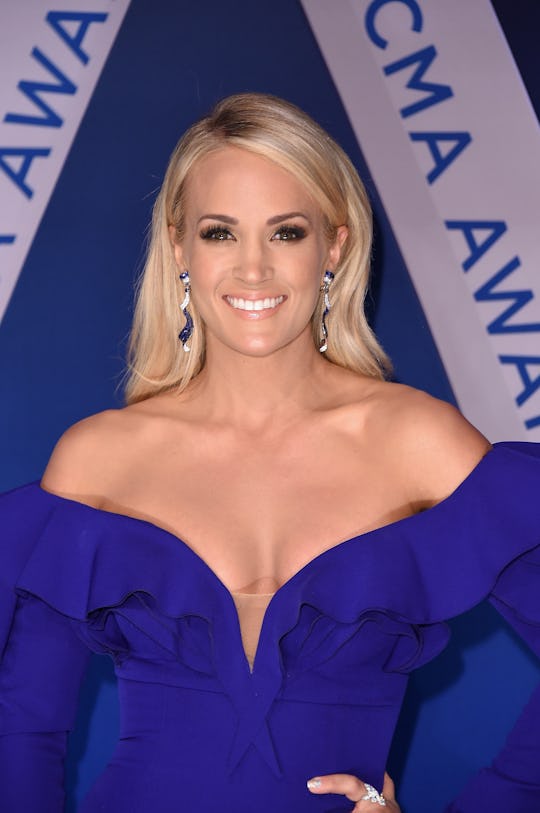 Michael Loccisano/Getty Images Entertainment/Getty Images
8 Of Carrie Underwood's Most Relatable Mom Moments (Including A Diaper Blowout)
If you're a fan of Carrie Underwood, you probably know that the singer and her hockey player husband, Mike Fisher, are currently preparing to welcome their second baby. Underwood and Fisher are already parents to a 3-year-old boy named Isaiah, and they both seem so excited to be expanding their brood. With her pregnancy well underway, now seems like the perfect time to reminisce over Carrie Underwood's most relatable mom moments.
In early August, the couple announced they were expecting with an Instagram video. After filling fans in on the details of her new album, Cry Pretty, the camera zoomed out to reveal balloons that spelled out "BABY." "Mike, Isaiah and I are absolutely over the moon and excited to be adding another fish to our pond," Underwood told fans in the video. "We're just so excited and glad you guys can share this with us and be a part of it. Love you guys! We will see you on the road in 2019!"
Underwood gave birth to Isaiah on Feb. 27, 2015, Us Weekly reported at the time. "Tiny hands and tiny feet...God has blessed us with an amazing gift!" Underwood captioned a sweet photo of her baby boy's hand. "Isaiah Michael Fisher - born on February 27. Welcome to the world, sweet angel!"
Without further ado, here are eight of Carrie Underwood's most relatable moments as a mom.
1. When She Opened Up About Prioritizing Family Time
Carrie Underwood's music career keeps her busy, so she had to adjust her lifestyle once Isaiah was born. In an April 2017 interview with People, she said:
But you just make room and you learn how important that family time is, and to be able to spend time and carve out some of that and maybe get to go on vacation and maybe get to go on a cruise — that stuff is so important too, like I said, make time for family .... That's what it's all about.
2. When She Shared The Secret To Working Out As A Mom
In March 2017, Underwood shared a video on Instagram of herself stretching in her gym — with little Isaiah right by her side. "My workout buddy...mama's in @caliabycarrie and the big man is in his fire truck PJs...whatever works!" she captioned the clip.
3. When She Used Isaiah As A Weight
Not only is Isaiah a pro at copying his mama's stretches, but Underwood has even used him as a weight to simultaneously enhance her workout and her cuddle time.
4. When She Faced The Dreadful Diaper Blowout
In August 2016, Underwood shared a photo of Isaiah rocking a Sesame Street diaper, sans pants. "Some mornings, pants are optional...even when the fedora is not. Just kidding, we had a blowout," she wrote, adding the hashtags #KeepingItReal and #momlife.
5. When She Replaced The News With Some Kid Content
In January 2016, Underwood shared a photo of her baby boy gazing at Mickey Mouse Clubhouse on their TV. She captioned the cute shot:
I used to watch the news in the mornings. Now I sit in the floor with my cup of coffee and this munchkin and sing the "Hot Dog" song! I think like it better this way! #whodathought #bestwaytostarttheday
6. When She Let Her Son's Less-Than-Perfect Table Manners Slide
In Nov. 2016, Underwood Instagrammed a photo of Isaiah sitting in his high chair with his face emerged into his bowl. "Enjoy it, baby boy...when you're an adult, sticking your face in the bowl to lick the bottom is 'frowned upon,'" she captioned the image.
7. When She Multitasked To The Max
While on her Storyteller Tour in the fall of 2016, Underwood's hair routine featured an added challenge that many moms know all too well. "He doesn't care that Mommy had to get ready for a show...all he knows is that he woke up cranky from his nap and needed a cuddle," she captioned a shot of Isaiah snuggling on her lap while she did her hair. "And I was more than happy to comply."
8. When She Wore Her Mama Pride On Her Sleeve
Being a parent is a full-time job (even when you have another full time job), and Underwood wants everyone to know how much she loves it. On Mother's Day of this year, she wore a T-shirt that read, "Don't mess with Mama," TODAY reported. She captioned the Insta photo:
My shirt for today...unfortunately, my kid can't read, so I have, indeed, been messed with. Pretty sure he put yogurt in my hair and I am currently being forced to watch Fraggle Rock (he loves the classics). Oh well, I've got coffee and some squirmy cuddles, so it's all good! Happy Mother's Day!!!!!
It's clear that Underwood is passionate about both her career and being a mom, and it seems like has found an amazing balance of the two in her life. It will be so exciting to see how baby number two fits into it all!