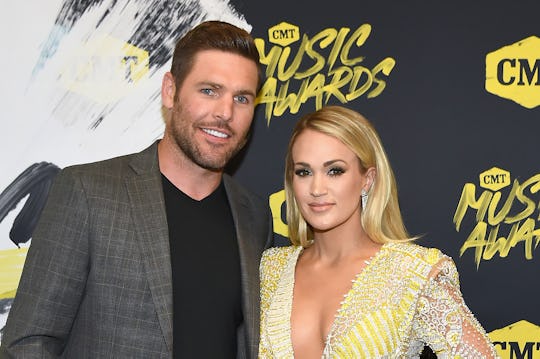 Rick Diamond/Getty Images Entertainment/Getty Images
Carrie Underwood's First Baby Bump Photo Is So Beautiful
Carrie Underwood dropped two pieces of great news in the laps of her fans on Wednesday; first of all, she plans on touring for her Cry Pretty album in 2019. Second? Oh just a little baby news, no big deal. That's right, the singer and her husband, NHL player Mike Fisher, are expecting their second baby next year. And now Carrie Underwood released her first baby bump photo from her performance at the Grand Ole' Opry in Nashville, Tennessee on Friday. So it sort of seems like Carrie Underwood already owns all of August, I guess.
The singer and her husband are already parents to 3-year-old son Isaiah, who is apparently just as excited as his parents are to announce that his mom is expecting a baby. Underwood shared a video to her Instagram account on Wednesday, saying; "You might be wondering or asking, 'Carrie, why is your tour starting in May?' Well...yay! Mike and Isaiah and I are absolute over the moon and excited to be adding a little fish to our pond. This has been a dream come true with the album and baby news and all that stuff. We are just so excited and just so glad that you guys can share in this with us and be a part of this with us. I love you guys. We'll see you on the road in 2019. Have a great day!"
Fans were obviously super excited to find out the 35-year-old singer was expecting another baby, and flooded her social media with messages of congratulations.
YAY! Congratulations! Prayers for you all, and just maybe a girl to pass down your beautiful talent of singing!
And just days after sharing the pregnancy news, Underwood shared a picture of herself backstage at the Opry. Her hands were clasped under her cute little baby bump.
While Underwood hasn't shared how far along she is in her pregnancy or the sex of the baby with her fans, her little baby bump could give a clue that she might be a few months along. Her bump was also on adorable display in a picture with country legends The Oak Ridge Boys, who were also performing on the weekend at The Grand Ole' Opry.
A lot has changed in the past year for Underwood; last April she told Entertainment Tonight that she wasn't quite considering a second baby at that point. She was happy to just let God decide:
We're on God's good timing or whatever you might call it. I'm just trying to figure out where life's going to take me next.
The fact that Isaiah wasn't asking for a baby sibling probably didn't exactly spur Underwood on to welcome another baby either, as she told the news outlet:
As a matter of fact, if a dog climbs up on my lap, I feel like he gets a little jealous of the dog!
To be fair here, it is tough going from being the center of the world to having a little baby sibling who is going to hog some attention. Isaiah was clearly ahead of the curve with his thinking.
Now that the "Before He Cheats" singer is expecting another baby, will she slow down and take it easy? Not a chance. Underwood announced a 55-city tour starting in May 2019 across the U.S. and Canada at the same time that she announced her pregnancy. Because that's the way things can be in 2018, hallelujah. And as far as her baby bump goes; if Underwood plans on performing over the next few months, I think it's safe to say we have more bump shots to come.