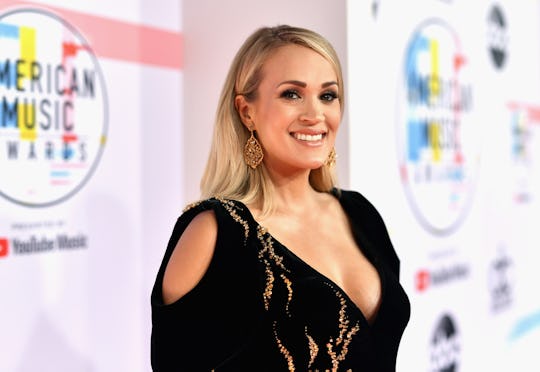 Emma McIntyre/Getty Images Entertainment/Getty Images
Carrie Underwood's Instagram Post About Being A Soccer Mom Is *So* Relatable
Most people know Carrie Underwood as a Grammy Award-winning musician, country star, and winner of American Idol. But at home, to her son, she is known as "mom" — and on the soccer field, she is known as just another soccer mom. It's easy to see why Carrie Underwood's Instagram post about being a soccer mom is super adorable and heartwarming, because it reveals a side to Underwood with which most fans might be unfamiliar.
Fans might have overlooked Underwood's Instagram selfie from Saturday morning, because it was just a little unassuming. In the photo, Underwood can be seen wearing some super cute activewear with her hair in the most perfect messy bun. In one of her hands, she holds a to-go cup. The whole look is so beautiful and seemingly effortless that it makes sense that it would come from one of the biggest stars in country music. But at first glance, this selfie looks like it could come from any average suburban mom that people follow on Instagram — which is what makes Underwood so relatable.
But she kind of is like any average mom — which she discussed in the caption of her Instagram post.
"Officially a soccer mom this morning!," Underwood wrote.
Since it is now officially fall, fall sports are well underway — which means youth soccer games are taking place all over the United States. This also means that Underwood's son, 3-year-old Isaiah Fisher, is among these soccer players. Although he has a lot of years ahead of him to play soccer, it's never too early to get kids running around, kicking a ball, and learning how to be a part of the team.
And, based on Underwood's caption, it sounds like he has a lot of learning to do — even though his blunders on the soccer field are super adorable. "Isaiah scored two goals for his team... and one for the other team," Underwood wrote.
But Underwood is doing what every good mom does — supporting her child and his accomplishments, no matter how big or small. "Hey, a goal's a goal!," Underwood wrote. Spoken like a seasoned soccer mom.
Although it is unclear if Underwood has fully embraced the "soccer mom lifestyle" and has started driving a minivan, she might need to start inching her way closer, now that her second child on the way, who she is expecting with her husband, Mike Fisher.
Underwood has stated in the past that she has always wanted a big family (filled with enough kids to fit a minivan). But, Underwood told Entertainment Tonight earlier this month that this second pregnancy has been pretty hard on her. Underwood said:
It's definitely different than the first time. When they say every pregnancy is different, it really is. Just different symptoms. I feel like this one is just a little harder on my body for some reason. But it's been really good.
Sure, Isaiah is a "star" on the soccer field, but he's also going to be a star at home once the baby arrives. Underwood told Entertainment Tonight that she is confident that he is "excited to be a big brother," but there is one task that he is not excited about — changing his younger sibling's diapers.
"He says he won't change any poopy diapers though," Underwood said. "I understand, maybe I can change his mind."
Underwood has just a few months left in her pregnancy, according to Country Living, to change her son's mind. But, if he remains unconvinced, she can still cheer on his successes on the soccer field.