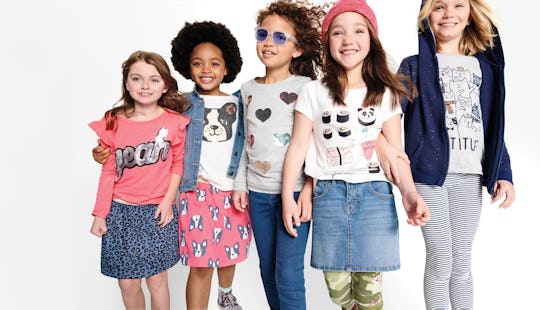 Carter's
Carter's Sizes Now Go Up To Size 14, & It's A Seriously Cute Game Changer
Heading into Carter's is a rite of passage. Whether it's for your first baby or your third, I think every mom can pinpoint a moment in a Carter's store (or when she was browsing online because it is 2018) that she loved. Picking out your baby's first outfit, grabbing a new swimsuit for the beach, or even finding the perfect Christmas jammies for your toddler — it's all just the best experience. But as babies often do, they grow up, leaving Carter's behind and heading into unchartered shopping territory — until now. Carter's sizes now go up to size 14, and it's seriously magic for parents of big kids.
Carter's is well known for being a trusted brand with parents. Not only are the prices great, the sales abundant, and the clothes adorable, but Carter's is pretty tough. Everyone I know that has more than one child was able to outfit several kids in their hand-me-down Carter's clothing, but not necessarily in other brands that didn't hold up to the wear and tear babies inflict on them. And now parents can enjoy that same durability and style for their older children.
The launch of Carter's KID is a big step. Going from sizes 4 to 14, the clothing promises to encourage kids to embrace their individuality and to put together their own style. The line will include active, layering, mix and match, everyday easy, and graphic tees representing everything from science and gaming to food and emojis.
If one of your favorite parts about Carter's is the matching that happens from toddler to baby sizes, don't fret. Carter's KID line will also include some pieces that match the smallest sizes in the store, so getting your family coordinated won't be nearly as difficult. (And with clothing as cute and comfy as these, the big kids should be on board, too.)
Everyone knows that kids love to make their own choices, which is why the mix and match portion of the Carter's KID line might be my favorite. From graphic tees to skater hoodies and tutus, your kids will be able to pull pieces together to make themselves feel comfortable and like they stand out. There's no one-piece sets here or forced matching details — everything is made to stand alone or to go with another item in the line, giving your kids the freedom and confidence to pick out their own clothing, knowing you'll approve of it and that they'll love it. Bonus points: both the girls' and the boys' tees are incredibly empowering, covering everything from their love of science to their love of pizza. Literally no one is left behind.
The Carter's KID collection will be available online June 5 and in stores on July 9, just in time for back to school shopping. Imagine how easy one stop for all of your kids will now be. No more rushing to Carter's for the little ones and a million other places for the big kids. With the comfort and durability (and cuteness) of Carter's seeping into larger sizes, you can now outfit all your children in a brand you trust and in a brand that truly thinks about your kids. Seriously, I've always thought that the day my 3-year-old outgrows Carter's will be the day I officially feel like she's too grown, but now I can keep her in lovely clothes that last up to a size 14. And whether you're as sentimental as I am about it, or just enjoy the practicality, you've got to admit that this Carter's KID line is lit, as the kids say. (That is what they say, right?)
Check out Romper's new video series, Bearing The Motherload, where disagreeing parents from different sides of an issue sit down with a mediator and talk about how to support (and not judge) each other's parenting perspectives. New episodes air Mondays on Facebook.