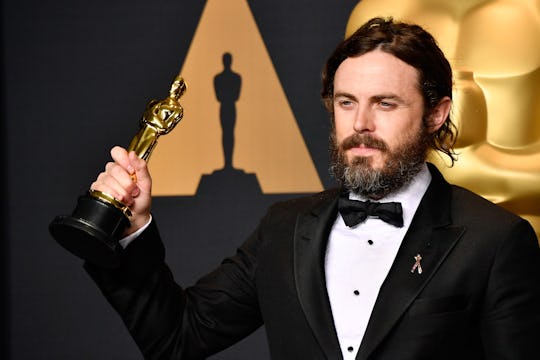 Frazer Harrison/Getty Images Entertainment/Getty Images
Casey Affleck Reportedly Backs Out Of Presenting Best Actress Award At The Oscars
It's a long-standing tradition at the Academy Awards for the previous year's winner of Best Actor to present this year's winner for Best Actress with their Oscar. Last year, the Oscar for Best Actor went to Casey Affleck for his performance of a hollow man with a haunted past in Manchester By The Sea, which would normally mean Affleck would be handing out this year's Oscar for Best Actress. However, Affleck reportedly backed out of of presenting the Best Actress Oscar, and there could be an important reason for his decision.
Romper's request for comment from Casey Affleck's reps was not immediately returned.
Affleck's decision was reportedly based on the potential outcry from the #MeToo Movement, according to Deadline, which has found women in Hollywood and beyond rising up against years of sexual harassment and misconduct in the workplace. Deadline noted that the actor wanted to keep the focus on the performances of the five actresses nominated for the award.
An Academy spokesperson confirmed Affleck's withdrawal from presenting the award in an email to Romper, saying:
We appreciate the decision to keep the focus on the show and the great work of this year.
The Gone Baby Gone actor has been under fire in recent years due to allegations of sexual harassment levied against him by two former employees, according to Vox. In 2010, when Affleck was working with fellow actor Joaquin Phoenix on the biopic I'm Still Here, he was accused of sexual misconduct in a lawsuit brought against him by producer Amanda White and director of photography Magdalena Gorka, as reported by Variety. The lawsuit was settled out of court before the release of the film, and Affleck has been reticent about discussing the situation in public, frequently citing the fact that neither he nor the women in question were allowed to speak about the particulars of the case. In a post-Oscar interview with The Boston Globe in 2017, Affleck said:
I believe that any kind of mistreatment of anyone for any reason is unacceptable and abhorrent, and everyone deserves to be treated with respect in the workplace and anywhere else. There's really nothing I can do about it, other than live my life the way I know I live it and to speak to what my own values are and how I try to live by them all the time.
Whether Affleck spoke publicly or not, it seems his behavior was deemed unacceptable by the court of public opinion. Many people took to Twitter to share their feelings about Affleck's decision to opt out of the Oscars this year.
Affleck's appearance at last year's Oscars caused something of a stir, particularly when presenter Brie Larson, the 2016 Best Actress Oscar recipient for her role in Room, appeared decidedly unimpressed by his win. When Larson was asked by Vanity Fair after the awards show in 2017 why she didn't applaud his win, sharing only a tight-lipped smile, she told the media outlet:
I think that whatever it was that I did onstage kind of speaks for itself.
And it certainly did.
A lot has changed since last year, of course. Sexual harassment allegations have been levied against a growing list of Hollywood heavy hitters, and a watershed moment has happened. People are changing the way they deal with sexual harassment claims, and simply moving on from those claims don't seem to be an option for men in power any longer.
Which is why it's probably a good idea for Affleck to withdraw as presenter. To allow the five talented women nominated (Sally Hawkins, Frances McDormand, Margot Robbie, Saoirse Ronan, or Meryl Streep) their moment in the sun, rather than taking a back seat to a potential controversy that was not of their making.
Check out Romper's new video series, Romper's Doula Diaries:
Watch full episodes of Romper's Doula Diaries on Facebook Watch.