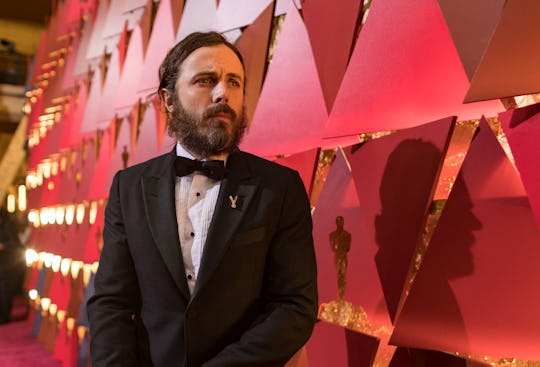 Christopher Polk/Getty Images Entertainment/Getty Images
Casey Affleck Addresses Sexual Harassment Claims
Casey Affleck had a pretty amazing weekend. The actor/director won his first Oscar on Sunday; he won Best Actor for his sensitive, nuanced portrayal of a janitor trying to care for his orphaned nephew in Manchester By The Sea. Affleck has been spending a lot of time in the news lately, and not all of it has been quite that fantastic. In fact, it's probably fair to say not everyone saw Affleck's win in a positive light, considering his reported history of sexual harassment. After years of silence, Affleck opened up about the sexual harassment allegations after people were talking about them in light of his Oscar win. He had this to say to the Boston Globe, according to BuzzFeed: "There's really nothing I can do about it."
Romper has reached out to Casey Affleck's rep and is awaiting a reply.
Two separate lawsuits were brought against Affleck (the younger brother of Oscar-winning actor/director Ben Affleck) in 2010 by women who worked with him on the set of his film, I'm Still Here. Both lawsuits were settled out of court for an undisclosed amount, according to The Huffington Post. The accusations brought forth by both women against Affleck included numerous alleged accounts of sexual harassment, including incidents of alleged verbal abuse, one allegation that he used physical force in an attempt to keep one woman from leaving the room, and one instance where Affleck allegedly climbed into bed with one of the accusers as she slept. Affleck has consistently denied the allegations, according to TIME, and at one point even said he considered a countersuit, though he never pursued one. Affleck has never admitted guilt, and with the settlements, he is considered innocent according to the law.
At the time, Affleck's rep released a statement explaining that the dispute had "been resolved to the mutual satisfaction of the parties and the lawsuits are being dismissed." According to The Wrap, one of the conditions of the settlement was that none of the parties could discuss the case.
During a post-Oscars interview with The Boston Globe, Affleck finally spoke out about the accusations and the criticisms he's been subject to recently. When asked about the accusations that have dogged him throughout the awards season, Affleck reportedly "sighed heavily" and said:
I believe that any kind of mistreatment of anyone for any reason is unacceptable and abhorrent, and everyone deserves to be treated with respect in the workplace and anywhere else.
Affleck went on to add in the same Boston Globe interview ("wearily" as the interviewer noted):
There's really nothing I can do about it. Other than live my life the way I know I live it and to speak to what my own values are and how I try to live by them all the time.
But here's the thing — there are most certainly many things Affleck can "do about it," especially if the allegations are false. Rather than petulantly sighing heavily when someone asks him about women who sued him for alleged sexual harassment, perhaps he could provide support and commentary about why such harassment is something that should be heartily condemned and prosecuted. Perhaps he could loudly, forcefully, passionately, and repeatedly condemn the frequent sexual abuse and harassment that happens in Hollywood. Perhaps when he is given one of the most watched platforms in the world, the Oscars stage, instead of muttering his thanks to the men who have held him up in his career, he could have given the spotlight to the people or causes that he is trying to help now.
The reality is, Affleck has more tools at his disposal to affect change than most. He is a talented performer and a skilled director. So there is plenty he could "do about it" when it comes to his history and the allegations against him. His attitude of hapless disinterest actually ends up saying more about him than he realizes. It gives the appearance, right or wrong, that Affleck found the accusations an irritating inconvenience and that he is fed up with people questioning him.
Just because his career has taken off despite the allegations, doesn't mean he has no obligation as a public figure to address them or to address what his success means — even just symbolically — for many survivors.