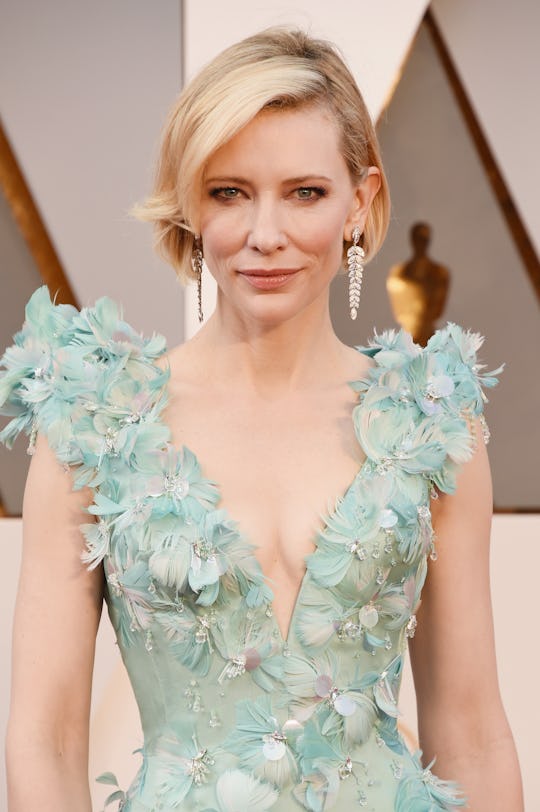 Jason Merritt/Getty Images Entertainment/Getty Images
Cate Blanchett's Oscars Dress Was The Most Incredible Blue Ever
She's nominated for an Academy Award Sunday for the title role in Carol, but fans were no doubt also looking forward to Cate Blanchett's Oscars dress leading up to Sunday night. The interest in Blanchett's red carpet looks is understandable. As InStyle put it, "she has an inherent nobility and elegance" and she's "statuesque." As a result, the magazine put it, she's among a very small group of actresses that all brands would love to dress.
But it's not just Blanchett's striking figure that get people so excited about her red carpet looks; she's also willing to take risks, whether it's going very, very simply, as she did when she wore a minimalist, raw-edged black Maison Margiela gown with an amazing turquoise Tiffany necklace at last year's Academy Awards, or very, very expensive: The 2014 Armani Privé ensemble she was wearing when she won the Best Actress Oscar for Blue Jasmine was the most expensive on the red carpet that year, totaling a cool $18.1 million, according to Vogue. ($18 million of that was Chopard diamonds.) She's already turned heads in 2016 when she wore a pale pink, fringed Givenchy gown to the Golden Globes. The dress would have been hard for most people to wear, but trust Cate Blanchett to pull it off.
In the lead-up to the Oscars, there was plenty of speculation about which designer Blanchett and her stylist, Elizabeth Stewart, would go with this time around. Would it be Givenchy again, or another Armani, as InStyle suggested, because if it ain't broke... The Guardian's predictions went in a different direction, suggesting that Blanchett would walk the red carpet in either high-necked, '30s style Erdem or mark the red carpet debut of Demna Gvasalia's work for Balenciaga. And one InStyle commentator, Roy Luwolt, co-founder of Malone Souliers, said it would be really amazing if Blanchett showed up in a young designer, which would of course be a huge break for an unknown.
When she actually showed up on the red carpet Sunday night, Blanchett was as stunning as always in a dusty blue, floor-length, feathered gown. It was, unsurprisingly, Armani Privé and completely breathtaking
This is for real, indeed.