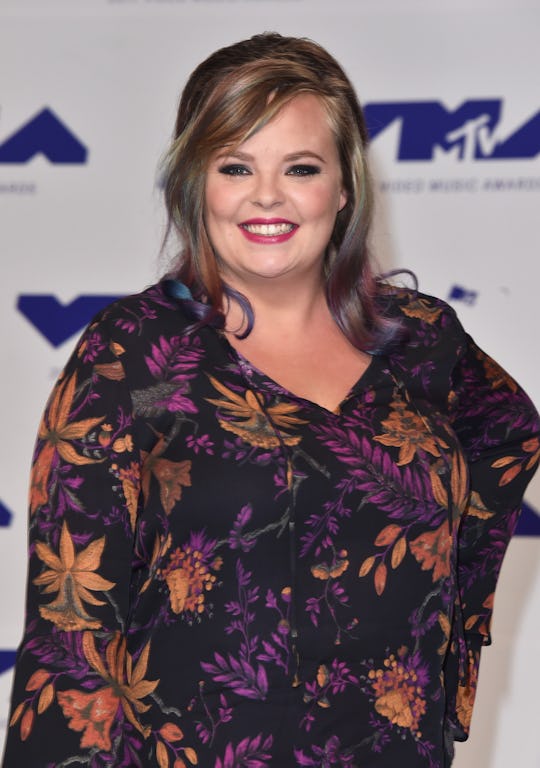 Alberto E. Rodriguez/Getty Images Entertainment/Getty Images
Catelynn Lowell Shared An Ultrasound Photo With The Sweetest Message To Her Baby-To-Be
No matter how many times you come across pregnancy updates, they're always adorable. There's nothing cuter than watching as someone is able to share a moment they're so obviously thrilled about. And Teen Mom OG star Catelynn Lowell's latest pregnancy update includes an ultrasound photo with the sweetest message to her baby-to-be. It will definitely make you "awww" at your screen.
Lowell first came into the public eye after being cast on 16 and Pregnant in 2009, as reported by E! News. She ended up starring in Teen Mom as well and appeared in each of its season until the show concluded in 2012. When MTV decided to reboot the series as Teen Mom OG, Lowell returned to the show.
In the original 16 and Pregnant series, Lowell was with Tyler Baltierra. The couple was well known for being the only ones in the franchise's installments to go with the adoption route, as E! News noted, and they are the only original couple from the series still together to this day. The couple married on Aug. 22, 2015. Lowell and Baltierra have also welcomed a child since their appearance on 16 and Pregnant, a daughter named NovaLee Reign, born on Jan. 1, 2015.
Now, the couple is expecting their third child together, and fans are so thrilled for them and get more excited with every update. Over the weekend, Lowell shared an adorable update of her pregnancy on Instagram, a sonogram photo captioned: "Already can't wait to meet you little nugget ❤️🌈😍."
It is an adorable message that may make some fans wonder: How long does Lowell have until she gets to meet her "little nugget"? Apparently, not too long. According to Radar Online, Lowell is reportedly currently 14 weeks along, with an expected due date of March 6.
This news comes after Lowell suffered a miscarriage in February of this year, as reported by People. When speaking about her new pregnancy, Lowell said, according to Us Weekly:
The big news is that we are expecting our rainbow baby. This baby is our rainbow after the storm. I'm super excited. It was a huge shock at first. We were not planning it, especially after the miscarriage and how I went downhill with my mental illness... We were going to wait a really long time. We were using protection and everything and still got pregnant. This baby just wanted to be here. It was very unexpected."
It is definitely good to see that Lowell and her family are recovering at their pace — and are now expecting an adorable new addition.
Since sharing the news, Lowell has consistently updated her fans on social media about her pregnancy. On Sep. 21, for instance, Lowell shared a photo of golden greek peperoncini, captioned: "My number one craving so far!! I could eat the whole jar."
Pregnancy cravings are something pretty much every mom can relate to. And Lowell's fans were quick to share their own experiences in the comments as well.
"I was the same way," one fan wrote. And one user added, "during my whole pregnancy I craved for these filled with tuna."
Another took a stab at guessing the baby's sex, commenting, "I was in love with hot wings of my son, peaches for my girl, I'm thinking BOY!!!!!!!!!!!!!!!!!"
The couple doesn't currently know the baby's sex, but Lowell reportedly told Us Weekly, "I think we both want a boy for sure, but we also have Nova. So it's, like, if we're just meant to have girls, we're meant to have girls."
Only time will tell!
Seeing this update was incredibly fun and refreshing, considering all Lowell has been through. Needless to say, the world cannot wait to meet their little nugget!