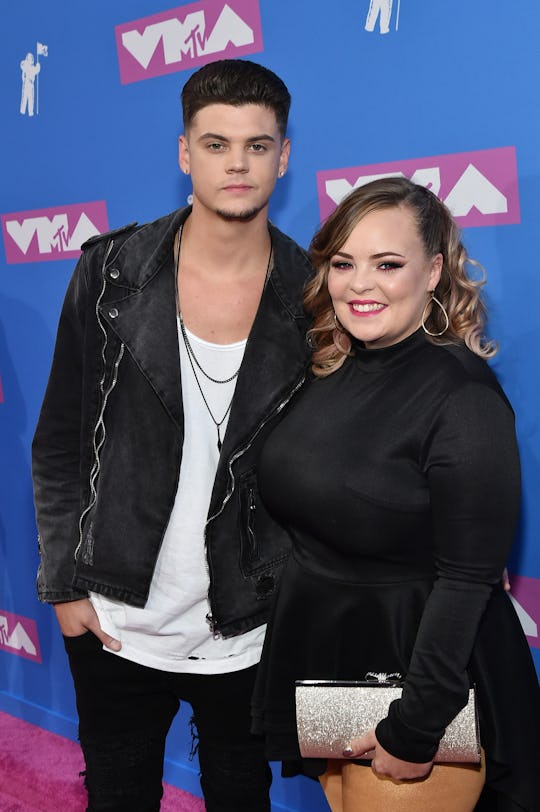 Mike Coppola/Getty Images Entertainment/Getty Images
'Teen Mom' OG's Tyler Baltierra Took Some Gorgeous Maternity Photos Of Catelynn Lowell
One of Teen Mom's longest running couples announced on Thursday that they're expecting another baby, months after experiencing a devastating miscarriage. To announce the exciting news, Catelynn Lowell posed for some maternity photos, shot by her husband Tyler Baltierra, and they show just how radiant and happy this adorable family is for their newest bundle of joy to arrive.
The pregnancy was announced today in an interview the couple did with Us Weekly. The magazine noted that Lowell had hinted at the news back in August, with a rainbow colored Instagram post about "big news" she was ready to share. Lowell announced her last pregnancy during an episode of Teen Mom OG in January, according to E! News, and in a February episode she later revealed that she suffered a miscarriage.
"The big news is that we are expecting our rainbow baby," Lowell told US Weekly. "The baby is our rainbow after the storm. I'm super excited." She said the couple wasn't expecting the news. "It was a huge shock at first. We were not planning it, especially after the miscarriage and how I went downhill with my mental illness," the mom-to-be told the magazine.
Lowell added in the same interview that she felt like the baby was miraculous. "We were going to wait a really long time. We were using protection and everything and still got pregnant. This baby just wanted to be here. It was very unexpected," she said.
Today's photos, which Baltierra said in a tweet that he took himself, showcase Lowell looking proudly into the distance as she shows off her baby bump in a flowing crimson dress. A headband of rainbow flowers accent her hair. Another features the couple's 3-year-old daughter, NovaLee, on her tiptoes kissing her mother's pregnant belly.
After the couple's loss Lowell struggled with suicidal thoughts and her journey into treatment was chronicled on the show. She was diagnosed with post-traumatic stress disorder and entered treatment in 2017, according to People. She returned to treatment to deal with childhood trauma in January 2018, the magazine reported.
The couple had their first child in 2009 and made the choice to put her up for adoption, according to Us Weekly. The adoptive parents named the baby Carly. In the episode of the show including news of the miscarriage, Baltierra spoke to a producer and related the heartache to the decision to give up a child for adoption, E! News reported. "We just sat on the bed and cried and just held each other. I mean there's nothing you can really do, so it felt very similar to Carly. I mean Carly's a little different, because we have to — we get to see her every year, but it's a loss and you feel it. Like, I feel like you process it as a loss," she said, according to E! News.
Lowell and Baltierra have been together since middle-school, according to Us Weekly, and celebrate their third anniversary in August. NovaLee was born in January 2015 and it was just a few months later the couple tied the knot.
While a few commenters to an Instagram post today by Baltierra have criticized the decision to have a baby so soon after Lowell's treatment, most responses have been supportive. Several have commented on their own experiences with a rainbow baby. "Having miscarried twice before my daughter nearly 14 yrs ago 🙈 I know what a relief it is to finally be able to shout from the roof tops that tour expecting!" wrote one fan. Another added, "For all those saying you shouldn't be bringing another child into this world because of your mental health issues obviously have never had postpartum or a miscarriage. I want to thank you both for bringing light to this subject and showing the world how even tv show personalities face this issue."
This young family has certainly been through a lot in just a short amount of time, and this next chapter in their lives will certainly cause for celebration. Congratulations to them on this exciting news!