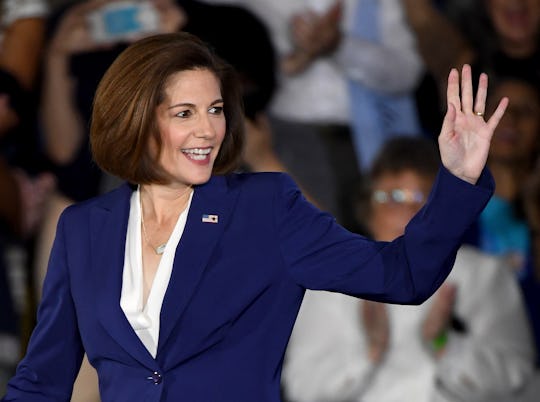 Ethan Miller/Getty Images News/Getty Images
Catherine Cortez Masto Becomes First Latina Elected To The Senate, So All Hope Is Not Lost
The 2016 election has left a lot to be desired as the electoral votes for Democratic presidential nominee Hillary Clinton and Republican presidential nominee Donald Trump roll in, but there is a major silver lining amidst all of the news — Catherine Cortez Masto became first Latina elected to the U.S. Senate proving that girl power will still exist.
According to FOX News Latino, Nevada was more than just a toss-up for the presidential race — it was a swing state for gaining a seat in the Senate. Masto, a Democrat and former Nevada attorney general was endorsed by Sen. Harry Reid, but remained in a tight race against Republican Rep. Joe Heck until the election results were announced. Masto won 48 percent and her win means that the Democratic party will keep their seat in the Senate as she essentially replaces Reid.
But her win is more than just a win for the Democratic party — it's a win for the country. According to her website, Masto served two terms as Attorney General in Nevada and spent her career protecting families in her state. She has advocated for women and children, worked for laws to prevent sex trafficking and prevent violence against women, investigated and protected fraudulent foreclosure rescues, and has worked over and over again to prosecute those who have abused, neglected, or exploited seniors in her community.
And for the Latino community? Masto promises to be a major inspiration. Her website noted that in September, she kicked off Hispanic Heritage Month and celebrated her culture as well as highlighted the high stakes of the election season, such as immigration reform.
According to Think Progress, even the Senate has has 46 women seated, there has yet to be a single Latina woman on the Senatea. That's historic enough, but her campaign against Heck has proved over and over why it's so important for her to be there in the Senate. Think Progress noted that Heck spoke down about Masto's culture and said that her ethnicity is only relevant when she's applying for scholarships.
In an election full of racist remarks, fear mongering about immigrants, and disrespect to other heritages and cultures, seeing Masto win her race is incredibly inspiring and hopeful. The Reno Gazette-Journal noted that Masto is a champion for women, but seeing her culture and heritage represented in the senate means she's going to be a champion for the entire country. She is representing what makes America so great — its diversity — and she is representing people who have been held down, ridiculed, and judged for no reason at all. She is representing hope and that's incredibly refreshing right now in the midst of election chaos.