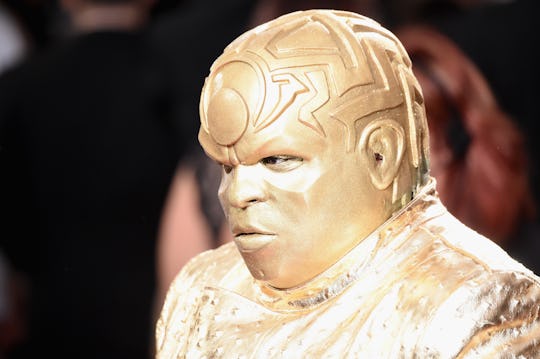 Frazer Harrison/Getty Images Entertainment/Getty Images
These CeeLo Green Grammy Memes Are Absolute Gold
Call me crazy, but wearing head-to-toe gold (literally) to the Grammys feels like you're trying to say something. Or you're going out of your way to be a meme; maybe that's it. So if that's the case, CeeLo's plan more than worked. The proof? Check out these CeeLo Green memes from the Grammys, because I have a feeling that's exactly what he wants, right?
CeeLo Green reportedly chose the red carpet at the Los Angeles Staples Center to introduce his alter ego, Gnarly Davidson. When one fan took to Twitter to say, "Holy sh*t Ceelo is making a scary looking comeback. #GRAMMYs He is literally gold," Green wryly responded with, "You mean Gnarly Davidson." The name could possibly be inspired by Green's band Gnarles Barkley and Harley Davidson (I know, I should be a private investigator). Whoever is wearing the gold outfit, Gnarly Davidson or former Grammy winner CeeLo Green, the internet was loving it, because there are just so many gold things in this world that look like CeeLo/Gnarly in that outfit, you know? From robots to Power Rangers to tasty chocolates in gold wrappers, that outfit is a veritable smorgasbord for memes. It was a real gift, to be honest. It's what the Grammys are all about, right? About audacity, about getting noticed, about being different... and in 2017, about some sweet memes.
Like this comparison to C3PO:
And speaking of Star Wars, let's give a nod to Spaceballs and Yogurt. "May the Schwartz be with you," guys:
Ferrero Rocher, anyone?
Then there's the throwback meme. I miss the Power Rangers, so thanks for that CeeLo/Gnarly:
Then there's this guy:
So this might be sheer Twitter genius; have you ever seen pictures of President Trump's gold apartment in New York? Ever wondered what CeeLo Green would look like in the background? Now, you have this. God, some days I truly do love social media:
If CeeLo Green's only purpose on Grammy night was to make an impression, he did it. If he wanted to become one of the best memes of the night, he pulled that off too. Because even as Twenty-One Pilots (and then host James Corden) nabbed their Grammy in their underwear, we still couldn't stop talking about CeeLo Green. Or Gnarly Davidson. Or C3PO, the gold Power Ranger, Yogurt from Spaceballs, Ferrero Rocher, Trump's gold apartment.
This is what award season is all about, guys. Being audacious. And CeeLo Green/Gnarly Davidson has set the bar incredibly high.