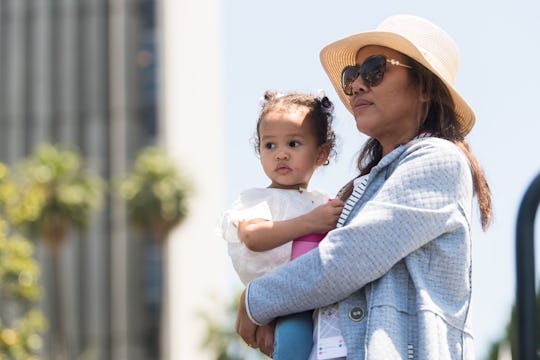 Emma McIntyre/Getty Images Entertainment/Getty Images
Chrissy Teigen & More Celebs Rallied For Families Belong Together
There's kind of a lot going on in the United States at the moment. From a Supreme Court justice retiring, to executive orders on immigration reform, and everything in between, it's been difficult to keep up. What's more, so many celebrities rallied for the 'Families Belong Together' protests which took place in just about every major city across the country. Because really, there's no such thing as "other people's children," as many protest signs pointed out.
Yes, in case you weren't aware, there's been a lot of devastating reports coming from border towns all across the southern United States. After the Trump administration enacted a "zero tolerance policy" on immigration, children started getting separated from their parents and reportedly put in holding cells. There have even been reports of children as young as 3 having to go to court alone. Back in May, the policy was announced by Attorney General Jeff Sessions, who said, "If you are smuggling a child, then we will prosecute you and that child will be separated from you as required by law," according to Vox.
So, even though President Trump has signed an executive order ending the policy, and allowing families who try to illegally cross the border be detained together, there's still an issue. Why? Because all the families who were already impacted by the policy and separated are still separated, and the federal government is allegedly doing nothing to reunite them.
And the protests on Saturday were attended by plenty of celebrities, ready to take a stand.
Chrissy Teigen Even Brought Her Newborn Son
In true Chrissy Teigen fashion, the cookbook author and mom of two didn't just deliver an amazing speech on Saturday, telling the protest attendees gathered in Los Angeles about the importance of immigrants. Oh no, she also held her newborn son, Miles, who was only welcomed into the world in May, a few weeks early. And while holding Miles, Teigen gave an incredibly passionate speech, according to People, saying,
Can you imagine this city without the contributions of immigrants? How bland, how flavorless LA would be, how boring. Too many people demonize immigrants like they're stealing something from the people born here. Immigrants don't come here to take from us, they add to what makes America special.
Basically, she kicked butt. And she held a baby while doing it.
Oh, And John Legend Was There Too
OK, OK, so in actuality, Teigen introduced her husband to the stage before he sang a new song, "Preach." But really, everyone can agree that Teigen and baby Miles totally stole the show.
Kerry Washington Made A Great Point As Well
Speaking at the New York rally for the event, Washington took to the stage and spoke some very poignant words, and made a seriously amazing point:
My grandparents on my mother's side came to this country through Ellis Island in the '30s from the Caribbean, and they came here like every other immigrant. Seeking better opportunities because of a lack of opportunity in their land. Running from poverty. Running from a place where they couldn't fulfill a dream. I am the fulfillment of that dream.
Because seriously, immigrants aren't the enemy.
America Ferrera, Lin-Manuel Miranda and Alicia Keys Joined Together In D.C.
Ferrera, Miranda, and Keys all protested together in Washington, D.C., and they had an amazing time, clearly. And, according to The Hill, Miranda even sang a lullaby in honor of all the children separated from their parents. "We're here because there's parents right now who can't sing lullabies to their kids. And, well, I'm just going to sing a lullaby that I wrote. And this is for those parents, and we're not going to stop until they can sing them to their kids again."
Amy Schumer, Padma Lakshmi, & Alysia Reiner Also Showed Up At The New York City Protest
The three celebrities also joined forces in New York City on Saturday, standing in solidarity with Washington before her speech.
Protesting isn't always easy, and when things seem bleak, it can be hard to get up, get out, and fight. But these celebrities make it look easy. And more importantly they're using their platform for good, which is really all the world can ask of them.