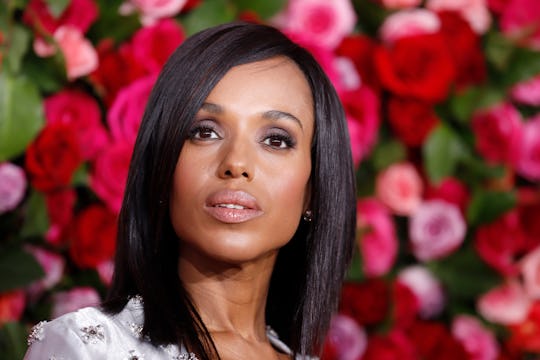 Jemal Countess/Getty Images Entertainment/Getty Images
Kerry Washington Speaks Out About Her Immigrant Family History
Kerry Washington is a force to be reckoned with. Not only is she a formidable actress with a seriously impressive career, she's also a passionate activist. The Scandal actress has spoken out against domestic violence against women in the past through her work with the Purple Purse campaign and has been vocal in her support of immigrants. Perhaps because she knows a little something about immigration on a personal level. When Kerry Washington delivered a speech for "Families Belong Together," an anti-Trump rally in New York on Saturday, she did so for several reasons.
The first and foremost of those reasons, of course, being the separation of migrant families at the US-Mexico border because of President Trump's "zero tolerance" immigration policy. Because of Trump's recent immigration policy (which came into effect on May 5), more than 2,300 children have been taken away from their families. These are children who might not speak the language, who are most likely deeply frightened and confused, who might have already been traveling on foot to get to the border if they were seeking asylum from their home country. Washington joined thousands of people to protest this inhumane treatment of children on Saturday for the "Families Belong Together" protests which happened in 700 communities around the country on Saturday.
And the actress made it clear she had some other people on her mind. Her own grandparents who emigrated from the Caribbean in the 1930s.
During her speech on Saturday, Washington said she wanted everyone listening to know that they "mattered." She went on to say that "everyone is in that umbrella, that everybody belongs."
Washington also noted that "Slavery is a part of my legacy. I understand the legacy of family separation because slavery is a part of my story."
Beyond the fact that Washington can identify with the detained children at the border, she also pointed out that she has another immigrant connection: her own grandparents.
My grandparents on my mother's side came to this country through Ellis Island in the '30s from the Caribbean, and they came here like every immigrant. Seeking better opportunities because of a lack of opportunity in their land. Running from poverty. Running from a place where they couldn't fulfill a dream.
I am the fulfillment of that dream.
It's a powerful picture: Washington's grandparents coming to Ellis Island for more opportunity for their family. And their granddaughter standing in front of a crowd in New York decades later, commanding the attention of thousands of people.
This is why people emigrate in so many cases. For a better future for their families.
The Django Unchained actress has opened up about her heritage before; indeed, in a 2012 interview with Vibe, she said she believed her heritage made her "special;"
You don't try to deny who you are or hide who you are; you don't try to be someone else. You just say here's who I am: I'm a woman, I'm an Aquarius, I'm from the BX. I'm a New Yorker, I'm an African American, My grandparents are immigrants. There are a lot of things that define me, and all these things make me special.
Washington is a mother herself. She and husband, NFL player Nnamdi Asomugha, have a 2-year-old son named Caleb and a 4-year-old daughter named Isabelle. So she understands how appalling and monstrous it would be for a mother to have her child ripped out of her arms under any circumstances.
Because, as she said in her "Families Belong Together" speech, "we all matter." It's a humanizing truth, a reminder that every person has the right to live their life without fear. A life full of opportunity, where any person can fulfill their dream.
And this is something she learned by example from a young age. From her immigrant grandparents.