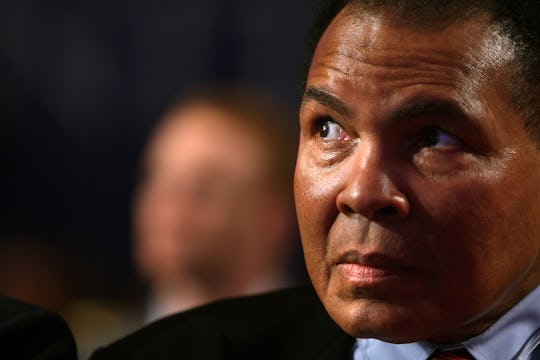 Spencer Platt/Getty Images News/Getty Images
Celebrities React To Muhammad Ali's Death & It Shows Just How Influential He Was
After the devastating news broke that Muhammad Ali had died at age 74, there was no shortage of outpour that demonstrated just how influential the boxer was. He was a legend, not just in the boxing community. His power spoke beyond a ring and touched many people, including some of today's biggest celebrities. The celebrities' reactions to Muhammad Ali's death show just how much influence Ali had, and how his legacy will be remembered forever.
The news of Ali's passing comes shortly after reports that the famed athlete was hospitalized, battling what was reported to be pneumonia. Bob Gunnell, a family spokesperson, told NBC News, "After a 32-year battle with Parkinson's disease, Muhammad Ali has passed away at the age of 74. The three-time World Heavyweight Champion boxer died this evening."
With his passing, celebrities have used social media to share memories of their experiences with Ali, or to just reiterate the fact that he was extremely influential to so many lives with quotes from the boxer. There's no doubt that the outpour will continue as the news spreads. It's no surprise that all of the celebrities who have spoken out about the passing of Ali have had only wonderful things to say about the legend.
Madonna
Justin Timberlake
"The Greatest. Take a moment today to remember how inspiring this human being is... We will miss you... Thank you for changing the world. --JT"
Chris Rock
Paul McCartney
"Dear Muhammad Ali. I loved that man. He was great from the first day we met him in Miami, and on the numerous occasions when I ran into him over the years. Besides being the greatest boxer, he was a beautiful, gentle man with a great sense of humour who would often pull a pack of cards out of his pocket, no matter how posh the occasion, and do a card trick for you. The world has lost a truly great man. Love Paul"
Mike Tyson
Michael J. Fox
David Beckham
Beckham used one of Ali's famous quotes as the caption of his tribute: "Impossible is just a big word thrown around by small men who find it easier to live in the world they've been given than to explore the power they have to change it. Impossible is not a fact. It's an opinion. Impossible is not a declaration. It's a dare. Impossible is potential. Impossible is temporary. Impossible is nothing."
Caitlyn Jenner
Susan Sarandon
Taraji P. Henson
"When you know your purpose and KNOW THAT GOD IS!!!! Why you will FOREVER be THE GREATEST OF ALL TIME #GOAT #RipAli "Thank you" is not enough!!! You can fight from a higher place now. REST IN HEAVEN KING ALI"
Lin-Manuel Miranda
David Hasselhoff
Wanda Sykes
Larry Wilmore
Rob Lowe
Donald Trump
Sean Diddy Combs
Mark Wahlberg
Max Greenfield
Ike Barinholtz
This post will continue to be updated...