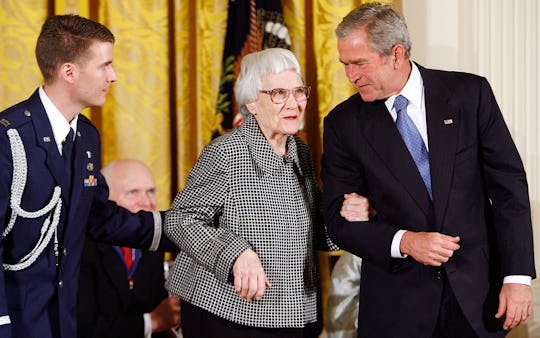 Chip Somodevilla/Getty Images News/Getty Images
Celebrity Reactions To Harper Lee's Death Show 'To Kill A Mockingbird' Shaped The World's Most Powerful People
As the world learned Friday that the author of the beloved novel To Kill A Mockingbird, Harper Lee, died at the age of 89, tributes and favorite quotes and reflections on the novel and more began to fill the Internet. Among them, the celebrity reactions to Harper Lee's death stood out not because celebrity tweets always stand out to a certain degree but because they convey the scope of Lee's, or at least Mockingbird's, influence. Still taught in most American schools, it's not surprising that many of the world's most famous (and thus wealthiest and, arguably, most powerful) people have read it and were moved by it.
Except, think about it: unless you count last year's Go Set a Watchman, which, depending on who talk to, may be a long-lost prequel or may be a rough draft of TKAM, The New Republic noted, Lee wrote one book. She was not a known writer when she wrote it. In fact, she was a complete unknown from a completely unknown town in Alabama come to New York to try and become a writer. She worked on it for eight years, again, in relative obscurity. Sure, she had high-profile friends. One of Lee's best friends was Truman Capote, on whom Dill in To Kill a Mockingbird seems to be based, and the two are thought to have influenced each other's work tremendously. But mostly only one thing made Lee the literary giant she was: she worked. And 66 years later, on the day of her death, the degree of her impact is very clear. Check out some of the most famous creative people in the world paying their respects to the inimitable Harper Lee:
It's clear that Lee's legacy will last for a long time to come.