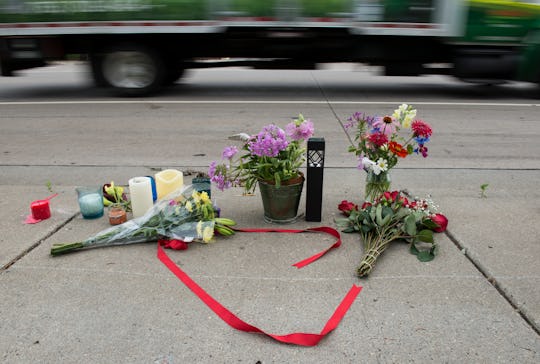 Stephen Maturen/Getty Images News/Getty Images
Celebrity Reactions To Philando Castile And Alton Sterling's Death Show Their Pain
We live in a world full of outrage these days. As far as the world has come in so many ways, as much as people have tried to become more open-minded, more caring,more loving,it seems sometimes as though we haven't moved forward even a tiny bit. Particularly in the last few days. The outrage is not contained to just us regular people either. These celebrity reactions to the deaths of Alton Sterling and Philando Castile are proof that even the rich and famous are appalled by the state of our world.
When Alton Sterling was shot and killed by police outside a convenience store on Tuesday night in Baton Rouge, Louisiana, the entire event was caught on video. According to video footage, Sterling was on the ground, completely incapacitated by officers. He was unable to move. And yet seconds before he was killed by multiple gunshot wounds, an officer can be heard shouting, "He's got a gun!". They killed Sterling, who had been selling CDs outside the convenience store. Less than 48 hours later, Philando Castile was shot and killed by police after being stopped for a broken taillight in St.Paul Minnesota. He was shot four times and died of his wounds. His girlfriend, Diamond Reynolds,live streamed the aftermath on Facebook.
Since the two shootings, many celebrities have spoken out against what many see as two cases of police brutality and racial profiling. One celebrity was particularly eloquent in her anger. Beyoncé called for less sympathy and more action. She released a powerful statement with a powerful message on her website: "Fear is not an excuse. Hate will not win."
Beyoncé has joined other celebrities intent to not only voice their sympathies for the victims and their families but also to galvanize their followers into action. As she said in her statement;
We all have the power to channel our anger and frustration into action. We must use our voices to contact the politicians and legislators in our districts and demand social and judicial changes.
Here is what other celebrities had to say about the deaths of Alton Sterling and Philando Castile.
Politicians have issued statements decrying the shootings as well, with President Barack Obama issuing a full statement saying that "All Americans should be deeply troubled," by the shootings.
While the world is outraged, it is somewhat comforting to see so many people in positions of power, or with the ability to offer some much-needed visibility are taking up the call.
It's a small comfort, surely, but a comfort nonetheless.