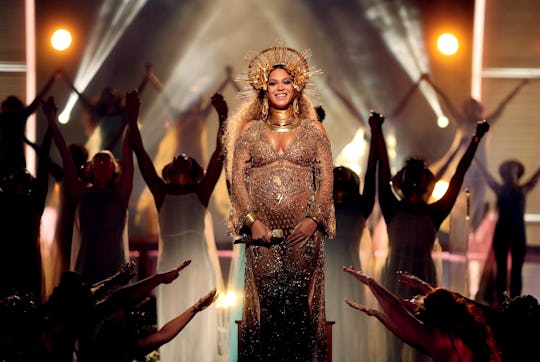 Christopher Polk/Getty Images Entertainment/Getty Images
Celebs & Public Figures React To The Birth Of Beyonce's Twins
It's finally happening, folks. According to Us Weekly, sources have confirmed that Beyoncé and Jay Z welcomed twins on Monday, meaning the new Carter babies have been born and living and breathing and crying and being adorable for almost a week without us knowing about it. Now that the news has officially unofficially broken, however, public congratulations have started to roll in — and the best celebrity reactions to the birth of Beyoncé's twins kind of sum up how we're all feeling about Thing 1 and Thing 2's birth. (Mind you, these are placeholder names until Jay Z and Beyoncé deem us worthy of knowing the twins' names.)
Romper reached out to Beyoncé's rep for confirmation of the babies' birth, but did not hear back immediately. However, Beyoncé's dad, Matthew Knowles, seemed to confirm the arrival of the twins in a tweet he posted on Sunday, which included a virtual birthday card and a simple announcement of "They're here!" As expected, the tweet threw the social media world into a frenzy, and both celebrities and public figures alike from across the music, comedy, and Hollywood worlds reacted to the news in a few ways — from men giving up their rights to Father's Day to others waiting with bated breath for baby pictures.
Here's a look at some of the best.
Waiting For Beyoncé To Share Her News
Epiphanies About The Twins' Birth
Needing More Details, Stat
Words Of Congratulations
Beyoncé Gets To Claim Both Mother's Day & Father's Day
General Awe & Praise
No word yet on how Jay Z and Beyoncé will inform the world of their new arrivals, but many people are betting on a picture post to Beyoncé's Instagram page. After all, that's how she broke her pregnancy news back in February, revealing her bump in a glorious, flowery maternity picture that was captioned:
We would like to share our love and happiness. We have been blessed two times over. We are incredibly grateful that our family will be growing by two, and we thank you for your well wishes.
Once Beyoncé and Jay Z confirm the baby news themselves, you can definitely expect an influx of congratulatory tweets from pretty much every celebrity out there — and, hopefully, some of those congratulations will include pictures of the twins (a girl can dream, right?). In the meantime, we'll just have to sit back, take bets on what Beyoncé will name her two little ones, and refresh her social media pages obsessively.