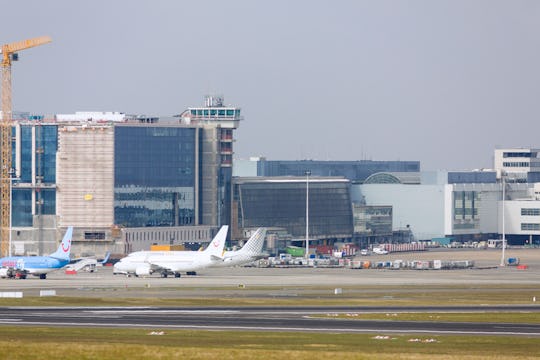 THIERRY MONASSE/AFP/Getty Images
Celebrity Reactions To The Brussels Attacks Express Sympathy & Fear
Immediately following the fatal attack on Brussels Tuesday, people all over the world took to Twitter to express sympathy, concern, anger, and solidarity with the people of Belgium, Paris, which suffered a deadly ISIS attack in November 2015, and Europe as a whole. In particular, celebrity reactions to the Brussels attacks showed that some of the world's most influential people have the tragedy on their mind this morning and are sending their thoughts and prayers to the victims.
(Update: ISIS has claimed responsibility for the terror attacks in Brussels Tuesday.)
The Brussels attack involved two explosions at the airport, according to CNN, and one at the Maalbeek station of the Brussels metro. The death toll reached 34, 20 in the subway explosion and 14 at the airport. So far, no group has claimed responsibility for the carnage.
The attack comes less than a week after Paris attacks suspect Salah Abdeslam was captured in Brussels. After his arrest, Abdeslam told authorities he had been planning more attacks, according to Fox News, and Belgian Prime Minister Charles Michel told reporters, "We were fearing terrorist attacks, and that has now happened," CNN reported.
In the wake of the tragedy, many celebs expressed their thoughts on Twitter:
While others shared images of solidarity on Instagram. Here's Beverly Hills 90210 star Shannen Doherty:
And singer-songrwriter Michelle Branch:
These messages of support and condolence can't bring those killed or stop ISIS, as security forces surely need to do, but they hopefully show the victims of the attacks and the residents of Brussels that they aren't alone, and their suffering isn't overlooked.