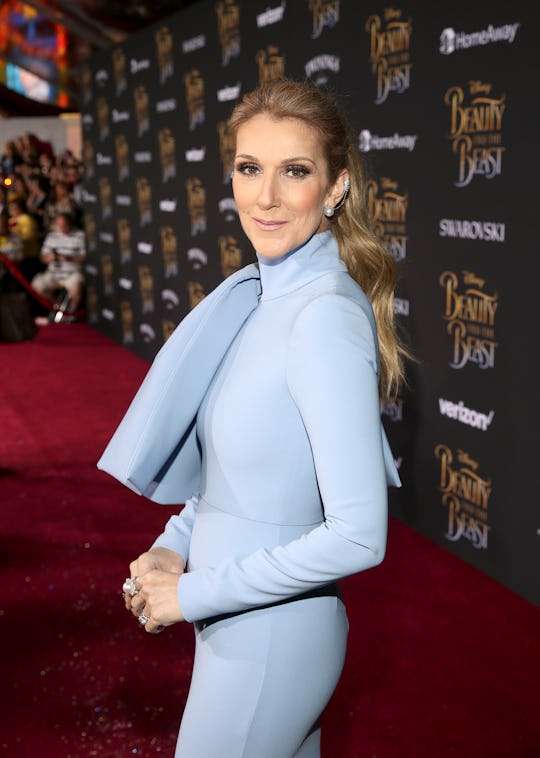 Jesse Grant/Getty Images Entertainment/Getty Images
Celine Dion Wants To Shake Up Gender "Norms" With Her New Children's Line
Celine Dion is a music legend, known for her powerhouse performances around the world, and most recently at her Caesar's Palace Las Vegas residency. But her latest passion project doesn't have anything to do with singing. Now the iconic vocalist has teamed up with fashion designers Iris Adler and Tali Milchberg, co-founders of the global children's fashion brand NUNUNU, to launch a new clothing line aimed at breaking down traditional boy/girl clothing stereotypes. Celine Dion's new gender-neutral kid's line, CELINUNUNU, is making waves, both for its sleek styles and for its renegade campaign video starring the singer. Dion, who first stole our hearts with her Titanic mega-hit, My Heart Will Go On, teased a cryptic video on Twitter on November 12 that set the internet abuzz. Today the full video is live on the CELINUNUNU website, along with the complete new line.
In the brand's launch video, Dion is slammed to the ground by security guards, and through flashbacks, it's quickly revealed why — she turned the hospital nursery gender-neutral. Dion, donning a black suit and looking every bit like a modern-day fairy godmother, announces that a baby's "course will always be their's to choose" and then blows sparkly black glitter to transform the once pink-and-blue nursery into a black-and-white one. The wide-eyed babies in it are now wearing cool onesies from the CELINUNUNU line.
The splashy video reveals a glimpse of Dion's debut gender-neutral children's collection, which includes over 70 styles, ranging in size from baby to teen (priced mostly between $20-$90). With its minimalistic color palette of black, white and yellow, and use of graphic symbols like plus signs, bold type, stars and skulls (all NUNUNU staples), it's clear that there's a real focus on letting children's individuality shine.
"I've always loved NUNUNU and what they represent. Partnering with Iris and Tali to encourage a dialogue of equality and possibility makes so much sense," said Dion in a company statement. "CELINUNUNU lets children choose outside stereotypes and norms, so they can bring from within their own tastes and preferences. We help them feel free, creative, inspired, respectful of one another, and happy in the world."
NUNUNU has been at the forefront of offering unisex clothing options, and their new collaboration with Dion puts even more emphasis on breaking down traditional gender stereotypes. "Our hope is to inspire a renaissance of change," said Milchberg of special partnership in a company statement.
That ethos is definitely pulled through the brand's website, where a statement declares, "Fashion has the power to shape people's minds. Inspire your children to be free and find their own individuality through clothes."
I'm the first to admit that my kids dress way better than I do, so of course, I was eyeing up this edgy line for my little ones. But even more than the cool cuts and prints, I love these clothes for the underlying message they support and convey. For older kids, I especially love the Denim Baggy Pants ($57, Celinununu) and Long Sleeve Ninja Shirt, with it's fun, pull-up face cover ($57). For babies, the line is full of edgy basics, like the skull playsuit ($59) and cute winter essentials, like the star hat ($20).
There's a quote from Jenny Holzer featured on the brand's site that sums up CELINUNUNU's mission perfectly, "Raise boys and girls the same way."