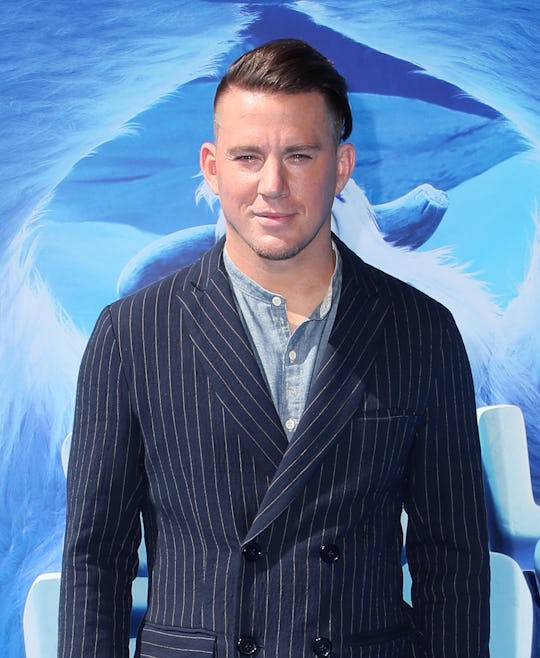 David Livingston/Getty Images Entertainment/Getty Images
Channing Tatum Says His 5-Year-Old Daughter Everly Is "Cool AF," & DUH
Considering how cool Channing Tatum and Jenna Dewan are, it's no surprise that their 5-year-old kid is super cool as well. In a recent Insta post, Channing Tatum gushed over his "cool AF" daughter Everly. And as if the adorable photo and caption weren't enough, Tatum continued to rave about Everly's unique qualities in a red carpet interview this weekend.
On Friday, Tatum posted a photo of Everly throwing up the horn sign with her fingers at school, People reported. "So my daughter giving the lone [horn sign] at her school assembly today just confirmed what I already knew. She cool AF!!" Tatum captioned an Instagram photo of Everly showing off her rock and roll hand gesture. "And that I will never even come close to how f-ing cool she is. I'm proud and feeling some pangs of dad dork growing. Just look at this pic if you ever need help. It has done a lot for me. Ok good night."
Tatum opened up more about the school assembly moment in an interview with E! News on Saturday, at the Smallfoot premiere. "I think everybody would think that was cool," Tatum told E! on the red carpet. "It was one of those things, and I'm watching her, and she's in a lone group of kids, and it's how they say be quiet, at assembly, and she's just the lone one, just like—" Tatum described, before making the horn gesture. "Just holding it up and being solid about it. Real calm. Solidarity."
In the interview, Tatum also explained that Everly is constantly doing her own thing and standing out. "She kinda came out that way. I wish I could take credit for that, but I can't really," Tatum said of his daughter. "That's really all her. I think kids sorta do come out a little bit of what they're going to be, and then you foster that to be whatever you hope her to be in the world. She always just like, does her own thing."
Tatum has opened up about his daughter's quirks in the past — including one that he and Dewan are not fans of. In an interview on Jimmy Kimmel Live in August 2017, Tatum revealed that he and Dewan had recently shown Everly Step Up for the first time, Time reported. Well, they tried to show her Step Up. The then-couple (they decided to "lovingly" separate in April 2018) met while co-starring in the 2006 film, so having their daughter's approval was important to them. Unfortunately, they did not get the affirmation they were looking for.
"We were like, this is gonna be really cool, it's got dancing, she'll love it! Within 10 seconds she was like, 'Can I watch a real movie? I don't know, like a good one?'" Tatum told Kimmel with a laugh. "And we were like, 'What do you mean? This is a real movie! It's such a real movie they made like seven more of these!'" Everly kept asking to watch something else, so Tatum and Dewan gave in. "We were like, 'Fine! Just put on Moana, I don't care,'" he joked.
Everly may not be a fan of her dad just yet, but it's clear that Channing Tatum is a big fan of Everly.