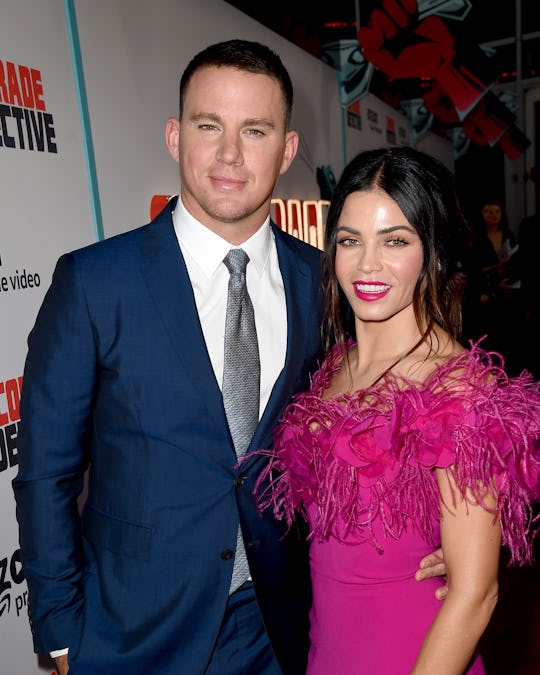 Kevin Winter/Getty Images Entertainment/Getty Images
This Could Be The Real Reason Channing Tatum & Jenna Dewan Split, & It's Pretty Relatable
On Tuesday, Channing Tatum and Jenna Dewan announced that they were separating after nearly nine years of marriage, and given that the pair had long seemed like the epitome of #relationshipgoals, it definitely hit fans hard. Though it's certainly not entirely surprising to realize that the couple's picture-perfect public image wasn't necessarily their reality (even gorgeous celeb couples still have to navigate the ups and downs of marriage and parenthood, after all), the announcement did seem pretty unexpected. On Wednesday, however, People magazine dug up a 2015 interview in which Channing Tatum spoke about balancing working and family, and in retrospect, his words seemed pretty telling.
The couple announced their split by posting a joint statement to their respective Instagram accounts, and in it, they wrote that they "have lovingly chosen to separate as a couple," and that they are "two best friends realizing it's time to take some space and help each other live the most joyous, fulfilled lives as possible." As admirable as it is though that they seem to be trying to keep their split healthy and positive (especially since they share a 4-year-old daughter, Everly), as with any divorce, the reality is likely at least somewhat more complex.
Celebrity life may come with many perks, but it also comes with many challenges — like the pressure of having an incredibly demanding career. But when your spouse is also in the public eye, maintaining a happy family life can be even more difficult. In April 2017, Dewan opened up to Ellen DeGeneres about falling in love with Tatum after meeting him on the 2006 film, Step Up, according to Us Weekly, and three years later, they tied the knot. But as endearingly romantic as their love story has always seemed, in June 2015, Tatum admitted to People that his growing career success has actually made marriage and fatherhood harder.
Tatum told the magazine that he owed much of his success to Dewan's support and ability to help to keep him grounded, and he also shared that his idea of a perfect day was simply "getting to walk around with [his] wife and daughter." But as important as his family clearly was to him, he also said that he wasn't very good at juggling the demands of his family and home life, and added, "I'm lucky to have people that care enough to make sure I'm not screwing things up."
Tatum and Dewan certainly wouldn't be the first celebrity couple rumored to be splitting up due to the demands of their careers, of course: when similarly-beloved celeb couple Anna Faris and Chris Pratt announced their split in August 2017, for example, the stress of Pratt's busy film career and his frequent absences were also thought to be a major reason. But on Tuesday, Page Six cited an unnamed source who claimed that the amount of time Tatum and Dewan were spending apart due to their work schedules ultimately took a big toll on their marriage:
Channing has been working non-stop, with four movies announced for 2018 alone. It is hard on a marriage to be apart so much, especially when you have a young child. Plus Jenna is in pre-production for the movie, 'Berlin I Love You.'
Tatum's earlier comments weren't the only clue though that something might be amiss in the couple's relationship. In a March 2018 Health cover story, Dewan also opened up about the pressure of being part of a high-profile celebrity couple, and though she still had a lot of loving things to say about her husband, she admitted it wasn't all sunshine and rainbows:
When people say you guys have such a perfect life, I want to scream and tell them no one's perfect. I think there are such things as great fits. It is a great fit as long as you are growing together, and I think up until this point we've really grown together ... But we're not perfect! Are you kidding? We fight like other couples, we disagree about things, we have days where we don't really like each other.
The one thing that seems pretty certain at this point, unfortunately? Chances are probably slim the couple will reunite. Despite emphasizing their love for one another in their joint statement, Us Weekly cited sources close to the couple as saying that while they are still living together, they have been separated for months, and that "things had turned more into a friendship" than a romance between the two. And from the sounds of their Instagram statement? They seem pretty confident that going in separate directions is the right thing to do.
Celebrity splits are often pretty heartbreaking — if for no other reason than because they remind us that, if even the most beautiful and seemingly totally in-love couples can break up, then it really could happen to any of us. In reality though, it sounds like Tatum and Dewan simply faced a lot of the same obstacles that most couples experience, and that they felt they had to make the decision that was best for their family. And as hard as it might be to keep from automatically assuming that the glamorous red-carpet couples we see are totally perfect and always happy and in love, splits like Tatum and Dewan's are a reminder that that's not really ever a realistic expectation for anyone.
Check out Romper's new video series, Bearing The Motherload, where disagreeing parents from different sides of an issue sit down with a mediator and talk about how to support (and not judge) each other's parenting perspectives. New episodes air Mondays on Facebook.