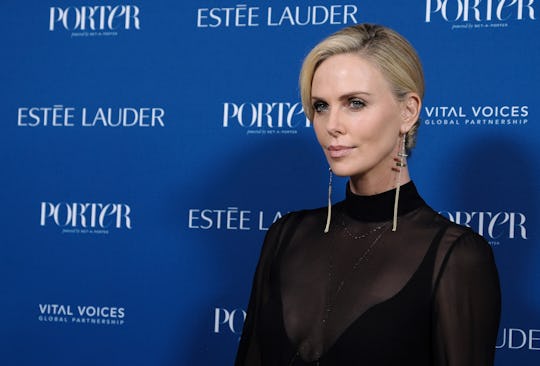 Alberto E. Rodriguez/Getty Images Entertainment/Getty Images
Charlize Theron Compares Mom Exhaustion To Hangovers & Yeah, We Get That
When you're a parent hanging out at home with your kids, sometimes it feels like the most exciting thing in the world would be a night out. Away from the kids and their needs, a night to reconnect with the person you used to be. And sure, sometimes you get the chance to enjoy a night away from the kids and come back feeling refreshed. But sometimes... you're still just way to beat to enjoy anything. When Charlize Theron compared mom exhaustion to hangovers on Monday at an event, she explained it perfectly. Sometimes the mom exhaustion wins, even if you get dressed up and have the best of intentions.
The Tully actress is a single mom to two kids, 6-year-old Jackson and 2-year-old August. She was out on the town on Monday night for the ELLE Women in Hollywood Celebration, where she was honored with one of ELLE's Women Of 2018. Not surprisingly the South African-born actress and former model looked as glorious as you might expect. But she told explained in her acceptance speech that her chic look was something of a facade, as reported by Us Weekly; "I feel like a tired mom who drank too many vodkas. This is late for me!" In other words Theron was too exhausted to fully enjoy a glamorous night out. Which is saying something when you realize she even got to meet Lady Gaga.
Theron might be suffering from a little mom exhaustion hangover, but that didn't stop her from delivering an empowering speech about women at the event. Where she opened up about all the female relationships she enjoys in her life that keep her going and keep her strong. One of the most important of which is her relationship with her mom, who also happened to be her date for the evening.
In her speech she credited her mom, Gerda Maritz, who lives close to the Atomic Blonde actress and co-parents her two children with her, for always setting an example of being "brave," as reported by EXTRA:
I think we all have to find our own footing. None of us are born knowing how to navigate life and difficult decisions — especially for young girls. No matter who you are or where you come from, the struggle is maybe a little bit different, but all interconnects. I am lucky enough that I had a great mom who really kind of made me brave and always told me to be brave. I don't know who I might have been without that.
Theron's mom is clearly a big help, but motherhood is of course still incredibly draining. Especially when your kids insist on "working against each other," as Theron explained to Ellen DeGeneres on Ellen in May.
Sometimes one decides to freak out and then they both decide to freak out. You would think they would be considerate and look and think, 'Well that one's freaking out right now I'm not going to freak out. I'm just going to be nice.'
If only children thought that way, Charlize, if only. Since they don't, I suppose parents just have to learn how to walk around in a constant state of exhaustion akin to a vodka hangover, minus the delicious vodka.