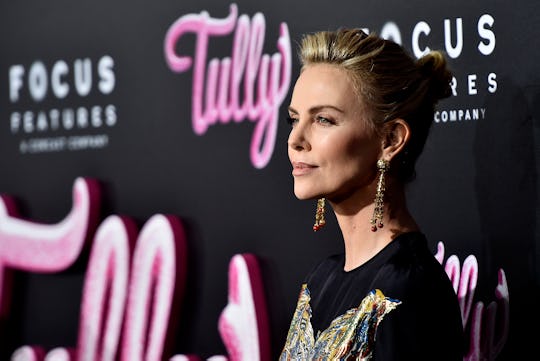 Frazer Harrison/Getty Images Entertainment/Getty Images
Charlize Theron Got Real About The Chaos Of Road Trips With Her Kids, & It's So Relatable
Being a mom is great... except for all those times when it's a nightmare, of course. But luckily for Charlize Theron, who is a single parent to Jackson, 6, and August, 2, she has found a way to make peace with those wild moments. Charlize Theron recently got real about the chaos that comes with being a mother, and any parent who has ever felt overwhelmed by their kids will totally relate.
The actress opened up about parenting at the Los Angeles premiere of her film Tully on April 18, as per Us Weekly. "Raising kids is not through rose-colored lenses. There is real grit to it," Theron said, according to the magazine. And, rather fittingly, Tully echoes that. In the film, Theron plays an exhausted mother of three named Marlo, who just gave birth to a newborn, as reported by Variety. Everything is overwhelming and difficult for Marlo — until a mysterious nanny named Tully shows up at her doorstep and changes everything.
Theron actually has her own real-life Tully: her mom, Gerda Maritz. Maritz lives down the road from Theron, and is super involved in raising her grandchildren, according to Us Weekly. And Theron is extremely grateful for all of her mother's help and advice.
At the premiere, Theron told reporters:
I think every piece of advice has been really good from my mom. She's like, 'You know, what, tomorrow is going to be a new day. It's not the end of the world.' ... Sometimes I lose my mind especially in a car, like when we're on a road trip or something. She'll look at me and laugh ... Then she'll say, 'It's just a moment. It's going to pass. It's going to pass.' ... It's really good to hear that when you're in the middle of it.
Every parent who's ever taken a child on a road trip (or, honestly, out of the house at all) can probably relate to Theron's feeling that she can't keep her head on straight. Her mother's way of reminding her that it's going to pass is awesome advice, and it's definitely a helpful mantra for any difficult-to-control situation with unruly kids.
Theron has spoken publicly about her mother being her co-parent on multiple occasions in the past. In a recent interview with Elle, the actress explained that she knew as soon as she adopted her first child that she would need her mom's help. She told the magazine:
I knew that I would have to have my mom help me if I was going to do this as a single parent. To not acknowledge her in co-parenting my children would be a lie ... I would feel pretty alone if I didn't have a partner in crime in all of this.
And despite all the challenges of being a single mom, Theron is so grateful for her children. Last year, the actress discussed being a single parent on The Ellen DeGeneres Show, explaining how there is often friction between her kiddos. As per Just Jared, she told the talk show host:
In the mornings I have them alone and they kind of work against each other sometimes. One kind of decides to freak out and then both decides to freak out, I don't know why they decide to do that
That being said, she went on to describe how much she loves seeing Jackson and August together:
To see how much they love each other and to see how much they're excited to see each other. They're so in love with each other, it's really beautiful.
Parenting comes with a huge set of challenges for every mother and father, and it's awesome that a celeb as glamorous as Charlize Theron is speaking out about the sometimes-uncontrollable chaos.
Check out Romper's new video series, Bearing The Motherload, where disagreeing parents from different sides of an issue sit down with a mediator and talk about how to support (and not judge) each other's parenting perspectives. New episodes air Mondays on Facebook.