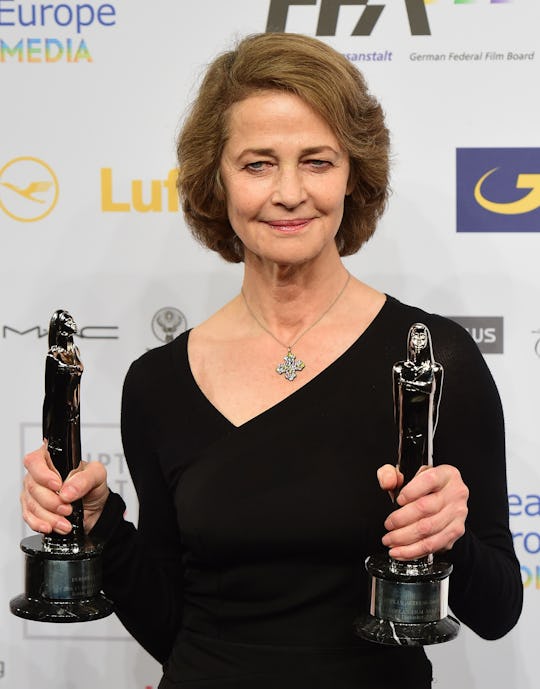 Charlotte Rampling Says The Oscars Boycott Is Racist To White People & Twitter Is Not Having It
Actress Charlotte Rampling isn't one to shy away from controversy. She has been an outspoken opponent of Hollywood for many years. (Rampling once stated she avoids making American films because "she despises the Los Angeles scene," according to a 2012 interview with Haaretz.com.) But her most recent statement may, in fact, may be her most controversial act to date. In an interview on the French Radio network, Europe 1, Rampling said the Oscars boycott is racist to white people, and many in Hollywood and on Twitter are furious, according to the Guardian:
It is racist to whites. One can never really know, but perhaps the black actors did not deserve to make the final list.
When asked if the Academy of Motion Picture Arts and Sciences should introduce quotas, a proposal that no current advocate of increased diversity has mooted, Rampling also said that forced diversity is part of the problem:
Why classify people? These days everyone is more or less accepted...people will always say: 'Him, he's less handsome'; 'Him, he's too black'; 'He is too white'... someone will always be saying 'You are too' [this or that]...but do we have to take from this that there should be lots of minorities everywhere?
But not everyone agrees with the Academy Award nominated star of 45 Years (a British drama directed by Andrew Haigh). In fact, many could not disagree more.
Rampling's stance on diversity was very different than that of her peers. Mark Ruffalo, who was nominated by the Academy for best supporting actor for his role in Spotlight, spoke out on Thursday in support of his fellow black and ethnic actors, according to the Guardian:
It isn't just the Academy Awards. The entire American system is rife with white privilege racism. It goes into our justice system.
Former Oscar winners and nominees, George Clooney, Reese Witherspoon, Viola Davis, and Whoopi Goldberg shared similar sentiments, and also called for changes in how the Academy "does things." And even Cheryl Boone Isaacs, president of the Academy of Motion Picture Arts & Sciences was "disappointed" by the omission of black lead films from this year's nominations and, according to Us Weekly, things will change:
While we celebrate [the nominees] extraordinary achievements, I am both heartbroken and frustrated about the lack of inclusion. This is a difficult but important conversation, and it's time for big changes. The Academy is taking dramatic steps to alter the makeup of our membership. In the coming days and weeks we will conduct a review of our membership recruitment in order to bring about much-needed diversity in our 2016 class and beyond.
For now, let's simply aim to help one another, support one another, and love one another. Saying that diversity isn't necessary isn't the answer.
Images: John MacDougall/Getty Images Entertainment