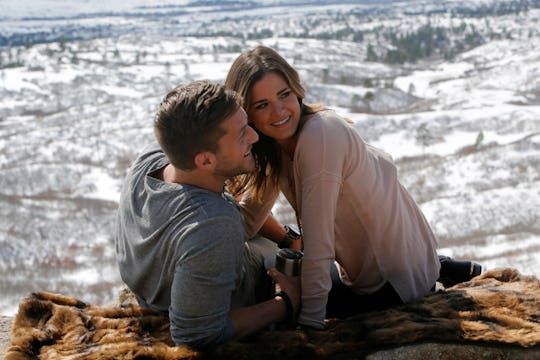 ABC/Adam Larkey
Chase Tells JoJo He Loves Her On 'The Bachelorette' And He Definitely Means It
Out of the four guys left on The Bachelorette, Chase McNary seems like the sleeper choice. Of course all the remaining contestants are attractive – Chase is no exception – but it was not apparent prior that JoJo was as into Chase as she is to, say, Jordan Rodgers. Regardless, JoJo kept Chase around to the hometown date, and Chase got so emotional that he dropped the "l-word." Chase told JoJo he loved her on The Bachelorette, and from his backstory it seems clear that he means it.
Chase's hometown visit is the first we saw on Monday night's episode. From the onset Chase is nervous, but not just because JoJo was meeting his family: she had to meet his mother and father separately because of a messy divorce. First up they meet with his dad – and it's pretty stilted and awkward. Later that night they then go to see Chase's mom and the rest of his family.
We previously had seen Chase as a pretty robotic person – and JoJo echoed this opinion. During the hometown visit, however, this changed. While Chase and his sister were talking it became evident that their parents' divorce greatly affected them. Chase revealed that it's very hard for him to say he loves someone, and his sister felt the same way about the word. Chase then has a heart-to-heart with his mom where not only did they reiterate the siblings' conversation, but Chase's mom gave her blessing to JoJo. They both then burst in to tears, proving again that Chase has emotions.
After Chase's conversations with his family, he told JoJo, "I'm falling in love with you." JoJo – and we – know how hard that was for Chase to say given his history. If we were skeptical about Chase's presence in the final four before, this visit cemented the idea that he should be there. Unlike other remaining contestants, there's no doubt of Chase's sincerity and commitment to JoJo. Chase is an underdog at this point, especially compared to the likes of Jordan, but can he win JoJo's heart in the end? We'll have to keep watching to see how this goes.