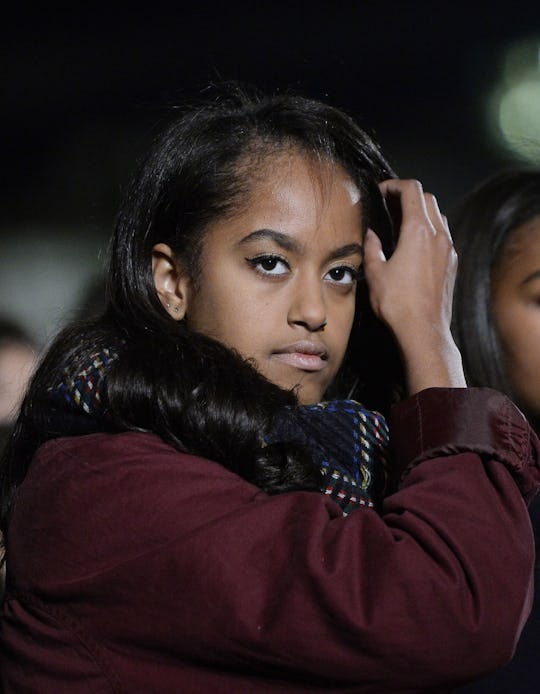 Pool/Getty Images News/Getty Images
Chelsea Clinton & Ivanka Trump Defend Malia Obama, Because The First Daughters' Club Is Real
So I've got some big news for you; apparently, a 19-year-old University student kissed a boy and smoked a cigarette. Oh wait, that's not actually newsworthy, is it? Now I'm going to tell you that the 19-year-old in question was Malia Obama, daughter of President Barack Obama. I know... it still doesn't seem terribly newsworthy, but several conservative news sites seem to disagree. The oldest Obama daughter has been under attack in the news, but two very important people are not here for it. Both Ivanka Trump and Chelsea Clinton are defending Malia Obama, because the First Daughters' Club is real and it's not taking crap from anyone.
It seems the oldest Obama offspring, who is in her freshman year at Harvard, was filmed blowing smoke rings. The video was shared on Snapchat and several news outlets, including the fringe conservative site The Daily Caller, were quick to pick it up for whatever reason. The amazingly controversial video of a teenager blowing smoke rings came just days after gossip site TMZ shared pictures of Malia smoking again and kissing a boy at a Harvard-Yale football game. Malia doesn't need to worry about releasing any kind of comment at all, because she has some pretty important people ready to watch her back.
A few other First Daughters, who have been down this road themselves and aren't afraid to speak out about the rights not only of private citizens (which Malia Obama is, don't forget), but also the rights of children.
Ivanka Trump, the oldest daughter of President Donald Trump and a White House adviser herself who knows all too well the harsh light of media scrutiny, tweeted in defense of Malia Obama. She wrote:
Malia Obama should be allowed the same privacy as her school aged peers. She is a young adult and private citizen, and should be OFF limits.
Chelseas Clinton, daughter of President Bill Clinton and former Democratic Presidential nominee Hillary Clinton, rote:
Malia Obama's private life, as a young woman, college student, and private citizen, should not be clickbait. Be better.
This isn't the first time Chelsea Clinton has stepped into the fray to protect the rights of a child whose parent is in the public eye. She has taken a swing at both sides of the media for jabs at President Trump's 11-year-old son Barron. During the Presidential Inauguration in January, social media was lighting up with negative comments about the youngest Trump, including an especially offensive comment by a former writer for Saturday Night Live. Chelsea Clinton shut it down quick.
In August, The Daily Caller posted a story criticizing Barron Trump for the way he dressed at the White House. Apparently, his tiger shark t-shirt wasn't considered appropriate (although I bet if someone surveyed a bunch of 11-year-old boys, they would have given it the thumbs-up). Chelsea Clinton again came to the rescue of the young boy... and this time around, First Lady Melania Trump took to Twitter to thank her. Which couldn't have been easy, considering the acrimonious relationship between the Trumps and the Clintons.
Melania Trump's response?
Perhaps it's time for the media on both sides of the fence to take note... the children of politicians are just that; children. They did not choose a life in the public eye, nor did they have any say when their parents choice thrust them out there nonetheless. Attacking kids won't be tolerated.
Just ask the OG members of The First Daughters' Club. Their allegiance knows no partisanship. They are not here for your snide remarks or criticisms of kids. And they will valiantly stand up for the rights of their younger members every day of the week.
This sort of behavior, protecting kids regardless of their parents' political background, should be the norm, not the exception.
Check out Romper's new video series, Romper's Doula Diaries:
Watch full episodes of Romper's Doula Diaries on Facebook Watch.