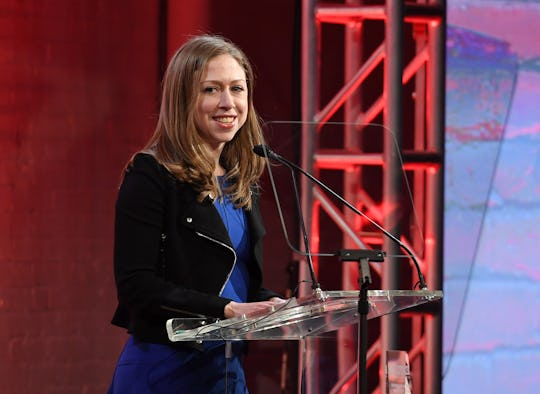 Dimitrios Kambouris/Getty Images Entertainment/Getty Images
Chelsea Clinton On Why Mothers & Women Need More Support
If it were up to me, I would vote for Chelsea Clinton in basically any capacity. If she wanted to run for president, I would be in. Because there's something so gracious and calm about her, you know? Despite many years of being treated rather horribly in the press, she has managed to grow into a fully evolved human person. And you really can't say any better than that. As an outspoken advocate for women's rights, Chelsea Clinton recently said breastfeeding moms and menstruating women don't get the support they need. And again... she nailed it.
In a recent article for Well and Good, Clinton wanted to discuss just that — breastfeeding and menstruation. Or more specifically, the inherent taboo we still hold in Western culture when trying to talk about those two topics. As a mother of two kids, Charlotte and Aidan (who is still breastfeeding), Clinton has intimate knowledge of the stigma that continues to surround not only breastfeeding, but what happens to women during "that time of the month." Clinton wrote:
Unfortunately, breastfeeding and menstruation remain fraught with cultural stigma, both here in the U.S. and around the globe. Far too many girls and boys alike are socialized to think these are shameful topics—only to be discussed with our family and doctors, and we're certainly not supposed to let anyone else see us dealing with them.
Clinton, who is an author and adjunct professor at Columbia University's Mailman School of Public Health, also serves as vice chair for the Clinton Foundation, which works to provide services for girls and women struggling in developing countries. Clinton acknowledged that there are many serious issues facing women around the world like "lack of access to education, gender-based violence, child marriage, just to name a few."
Clinton noted that the average woman will menstruate for 3,000 days in their lifetime, yet not nearly enough girls have access to clean and safe sanitary products. She pointed to a study done by Unicef which found:
One out of every ten girls in Africa misses school when she's menstruating because she doesn't have access to pads or clean water to wash them after use. That means the girls confront the fear of embarrassment monthly—and are missing school every month.
This problem exists here in America as well, as Clinton wrote that states still do no consider pads and tampons a "necessity":
In America, tampons and pads aren't covered by food stamps despite the fact that sanitary products are among the most requested items at food pantries and homeless shelters.
Clinton also wrote about the "cringe" effect that sometimes goes hand-in-hand with breastfeeding. She pointed to the struggles that go along with breastfeeding; whether it's trying to find a place to feed your baby, or trying to not only afford a breast pump but being afforded the privacy to use it if you are back in the workplace (and considering the state of parental leave in the United States... you see where I'm going with this):
Many women cannot afford to buy or rent a pump, have inflexible work schedules, have to go back to work after just days or weeks of giving birth, and have no access to even a shred of privacy in which to pump at work. All of these challenges, coupled with the cultural stigma around breastfeeding (or pumping) in public, often lead women to choose to feed supplementary formulas or to stop breastfeeding their children altogether—even when they want to continue breastfeeding.
Fortunately, Clinton and others are working towards "changing the conversation." She wrote:
We need to change the conversation, the practices, and the policies that too often punish women for being women—and prevent mothers from being the moms they want to be for their kids. We shouldn't be embarrassed by breastfeeding or menstruation, but we should be ashamed that women are suffering in silence because too many people refuse to speak out.
It seems impossible that women should feel ashamed or embarrassed by something that has been happening to women since forever. Perhaps it truly is finally time to change the conversation. And Chelsea Clinton seems to be one of the people intent on doing so.