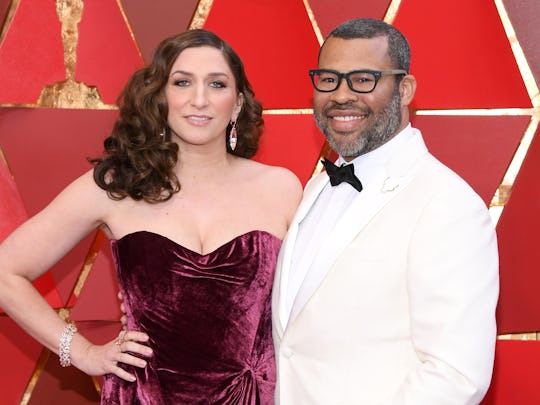 Kevork Djansezian/Getty Images Entertainment/Getty Images
Chelsea Peretti's Momstagrams Show A Much Different Side To Motherhood
When Chelsea Peretti and husband, Jordan Peele, welcomed their son, Beaumont Gino Peele, into the world one year ago, fans were super excited. Given how hilarious both Peretti and Peele is, people expected for Peretti to take a light hearted approach to motherhood — which she has, as evidenced by her Instagram account. Although Peretti has never shown a photo of her son like, ever, Chelsea Peretti's mom Instagrams are super real — they depict very relatable situations that almost all moms have had to go through.
Beaumont just celebrated his first birthday, one month ago, on July 1, according to People. And his first year of life was definitely a whirlwind for his parents. In 2018, Peele won his first Academy Award for Best Original Screenplay with his film, Get Out. And Peretti's show, Brooklyn Nine-Nine got renewed (after being briefly cancelled) for another season, according to The Hollywood Reporter. But surely, for both parents, nothing could have topped experiencing Beaumont's first year of life. "Every day is a joy," Peele told People about being a father in February. "You just get a little bit more of the person. You meet a little more of the person."
But Peretti doesn't try to make motherhood look glamorous, which is the best part about her. The following Instagram posts show how real she is about motherhood (all without showing her son's face):
The Struggles With Breastfeeding
Throughout this past award's show season, Peretti accompanied her husband on the red carpet, as his film was nominated for many awards. But this meant that Peretti had to pump while she was away from her son — all of which she documented on Instagram. After cameras caught Peretti on her phone during the Golden Globes, Peretti took to Instagram where she told fans that she wasn't disinterested in the awards show — she just really had to breastfeed. "Texting to help me pull off a fine tuned ballet to get me out to pump on schedule and in privacy," Peretti wrote in the caption of the photo. "Never knew what moms do — so many surprises!"
Weeks later, Peretti was back to pumping again — this time at the Screen Actor's Guild awards, which she also documented on Instagram, with a hilarious caption. Peretti wrote:
Forgot part of the pump and had to Uber it from home. Doing great at being a woman! Sexy, maternal, excited, and free. Reflecting with each mechanical whirl.
Peretti has even been honest enough to document all of the places she has breastfed on Instagram — like this trailer filled with "interesting" food. Peretti's comments about breastfeeding definitely resonated with any mother who ever pumped in an odd place before. "I hope breastmilk really is beneficial to the bb," Peretti wrote in the caption of the photo. "I do it all for that lil angel."
And one day later, Peretti was pumping in a more glamorous place — at the Academy Awards in a red velvet pumping lounge. "Ooh Oscars pumping compartment come through," Peretti captioned the photo.
The best part about Peretti's breastfeeding Instagrams is how supportive she is of other moms. No matter where she pumps, she knows that other moms have shared the same experience as her. "Shoutout to working moms, you can do this," Peretti wrote in the caption of a photo of her pumping from a trailer.
If she can pump at the Oscar's then anyone can pump anywhere, right?
The Reality Of Getting Used To New Home Decor
From posing with a diaper pail to getting used to baskets of toys of her house, Peretti hasn't shied away from how much someone's life (and how much their home) changes when they become a parent.
Like, in this super adorable photo of her record player, where Peretti made it clear that she was getting used to listening to children's music on vinyl more so than her own favorite albums.
And the photo's caption, which focused on where Peretti could find a carpet runner long enough for her son to play on, got the attention of another celebrity mom — Chrissy Teigen. "You got a baby just use a role of parchment paper there is no point in trying to live a civilized life," Teigen wrote in the comments.
Yet another thing that changes in home decor once you have a kid.
The Little Things That Make Motherhood Hard
Moms are aware that motherhood is messy — both figuratively and literally — and Peretti gets that. Not only is Beaumont pretty good at making a mess, as evidenced by his high chair after eating spaghetti ("this was after clean up," Peretti captioned the photo) but Peretti is aware that it isn't really the easiest on the brain. Like the time she documented putting together a stroller on Instagram. "Today I learned I am 'not so bright'," Peretti captioned the Instagram post from March.
Like I said, motherhood can get messy. And although it can be a little hard, it's all part of her son's growth. This can be seen in Peretti's most recent Instagram post about her son, where she hinted that her son has become a bit of a rebel.
"How are you gonna throw it all on the ground whilst making eye contact with me," Peretti captioned the photo. At just a year old, her son is already becoming a rule breaker. What a rebellious baby.
& The Little Joys That Motherhood Brings
Although motherhood might be a little messy, hard to adjust to, and a little complicated, Peretti's Instagram photos show how much joy is involved with being a mom (of course). And her comments made about her son show that she is so excited to watch him grow every single day.
From making her son a little meatloaf to watching him eat the same foods she ate while she was pregnant (it comes full circle!), you can feel Peretti's excitement with every single post about even the smallest things.
And when she's away from her son, you can tell that she misses him so much because he makes her so happy. "I love being a mommy," Peretti captioned a photo from March. "This is how I smile now."
The best part about her Instagram is that you can tell, at the end of the day, there is nothing more satisfying than laying down and cuddling with her son. This can be seen in all of the super cute photos that Peretti posts of Beaumont's legs.
Although some fans might be upset that Peretti doesn't post photos of Beaumont on Instagram, she really doesn't need to. Just through her mom Instagram posts alone, fans are able to get a unique perspective into Peretti's life as a mom that they might not otherwise. Her Instagram photos about being a mom are real, hilarious, and too relatable.