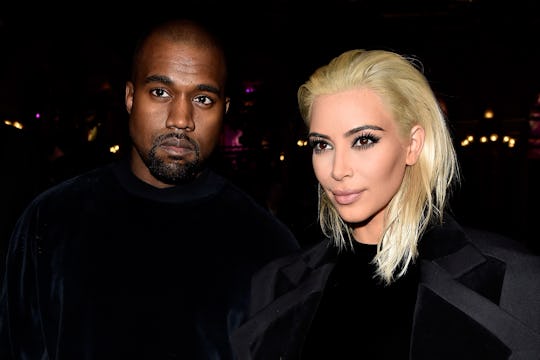 Pascal Le Segretain/Getty Images Entertainment/Getty Images
Chicago West's Birth Certificate Confirms A Huge Rumor
When it comes to all the deets about Kardashian babies, there's never enough information. Since Kim Kardashian and Kanye West announced the birth and name of their third child — a baby girl named Chicago West — fans have been wondering about some of the finer details, like her middle name or if Kylie Jenner was actually the surrogate all along. Now, though, TMZ's released Chicago West's birth certificate and fans can breath easy since they have all the answers. Well... some of the answers.
On the birth certificate, the baby's name is recorded as "Chicago West," with no middle name. That might feel odd to some people, but neither North or Saint have middle names either, so this must be something that Kanye and Kim feel strongly about. However, both of them do have middle names. Kanye's full name is "Kanye Omari West" and Kim is actually "Kimberly Noelle." All of the other Kardashian sisters have middle names, as do all three of Kourtney's children and Rob's daughter.
So North, Saint, and Chi already have their own separate thing going on from their cousins.
According to the birth certificate, baby Chi was born at 12:47 a.m. on Jan. 15 and came in at 7 lbs. 6 oz. She was delivered by Dr. Paul Krane, who also delivered Kim's other children along with the rest of the Kardashian kids.
On social media, fans have been wondering whether or not Kimye would try to slip in a middle name that went with the Chicago "theme."
But They Were Torn Over "Mid" Or "Southside"
Fans have been joking about the new baby's name ever since her birth was announced on Kim's blog. She introduced the baby to the world by also giving instructions to fans about how to pronounce the shortened version of her name. According to the proud mama, her nickname is "shy" not "chi," which is also how you pronounce the nickname of West's hometown: "Chi-Town."
Whatever other people might think of the name, the family seems to love it and that's all that matters. If anything, she's lucky to have a name. Right after she was born, paparazzi yelled out at Kanye and asked what they were going to name her. The rapper and Yeezy designer joked that he didn't have a name yet, and this was the day after she she was born. At the time, the pap said that he should name his third child after his late mother, Donda, to which Kanye responded that it would be "fire," according to Complex.
They weren't not trying though. Last fall, Kim told Ellen DeGeneres during an appearance on the show that they were having trouble thinking of one and asked people at her baby shower to write down suggestions to see if any of them were good. According to Billboard, she said that North was leaning towards "Star" for her baby sister's name but Kim said that she wasn't "vibing" with it.
North is probably going to be the best big sister, though she might have some trouble sharing attention. In the same interview with DeGeneres, Kim said that North was all about keeping her little sister's presents safe after the shower. "People brought toys and gifts [to the baby shower] and we were opening them all up the next day and North said: 'Mom, since baby sister's not here, I think I need all of her toys in my room and I'll play with them and just make sure they're OK for baby sister,'" she shared.
You might remember that Kim also shared that North had trouble watching little Saint get breastfed and felt jealous. This time it felt different. "North is really excited about [having a sister]. [Her having] a brother was a little trickier. Now, she's so excited. Let's see if it lasts. I've had to explain to her: 'When you come into my room in the morning I have to be with baby sister, I have to feed her,'" Kim shared.
Now that baby Chi's here, fans are bound to get more hilarious Kardashian sibling rivalry stories. North, Saint, and their little sister have tons of brother and sister role-models to learn from. And it's a good thing they don't have one more middle name to remember.
Check out Romper's new video series, Romper's Doula Diaries:
Watch full episodes of Romper's Doula Diaries on Facebook Watch.